2017 U.S. Dressage Championships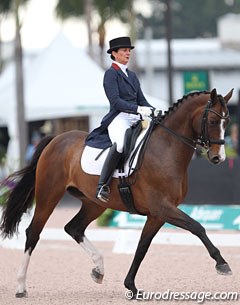 The United States Equestrian Federation has extended numerous wild cards to top riders to boost the participant list and glamour of the 2017 edition of the U.S. Dressage Championships in Gladstone on 18 - 21 May 2017. With several of America's best riders not having obtained the necessary qualification scores, the entry field for Gladstone was quite lacklustre, absent of celebrity pairs.
USEF therefore offered the entire 2016 U.S Olympic team riders Laura Graves, Steffen Peters, Allison Brock and Kasey Perry-Glass a wild card for Gladstone, but the first three of them declined, wanting to spare their horse looking ahead to the 2018 World Equestrian Games. Perry-Glass accepted.
Riders who had obtained the necessary qualification criteria had to confirm or withdraw their entry so the definite line-up could be drafted.
Ten Grand Prix combinations achieved the criteria but only three of them (Hickok, Rosencrantz, Lagoy) have chosen to compete in Gladstone. Wild card Grand Prix entries are Bateson, Perry-Glass, Holzer, Lyle and Rizvi. 
The Grand Prix riders are
Katherine Bateson-Chandler - Alcazar
Kasey Perry-Glass - Gorklintgaards Dublet
Chase Hickok  - Sagacious
Ashley Holzer  - Sir Caramello
Adrienne Lyle  - Salvino
P.J. Rizvi  - Breaking Dawn
Mette Rosencrantz  - Marron
Olivia LaGoy-Weltz - Rassing's Lonoir
Of the original list of 17 qualified combinations, five turned down their entry (Steffen Peters, Shayne Simon, Charlotte Jorst, Jan Ebeling and Kathy Priest). Four riders are filling those five spots: Bridget Hay, Rianna Porter, Rebecca Rigdon, and Tiffany Silverman. 
The complete small tour list includes: 
Adrienne Lyle - Horizon 
Jane Cleveland - Monique 
Adrienne Lyle - Harmony's Duval 
Jennifer Baumert - Handsome 
Catherine Malone - Dilona 
Barbie Asplundh - Bittersweet 
Nicole Levy - Floratina 
Jessica Jo Tate - Montana 
Kim Yacobucci - Dona Rosa 
Natalie Pai - Fritz San Tino 
Jessica Jo Tate - Summersby 
Susan Ighani - Liaison 
Eight Under 25 riders qualified and seven will compete in Gladstone. Kerrigan Gluch had to decline as she fractured her foot and is in a cast at the moment for a few more weeks.
Geena Martin - Bon Chance
Molly Paris - Countess 
Kaitlin Blythe - Don Principe
Natalie Pai - Unlimited 
Ariel Thomas - Heraldik Star
Jacquelyn McMaster - Rampart 
Mallory Chambers - Urithmic 
The U.S. Dressage Festival of Champions will be divided between two competitions. The Grand Prix, Intermediaire I and Young Adult Under 25  National Championships. The Children, Pony Rider, Junior and Young Rider National Championships will coincide with the USEF Young and Developing Horse Dressage National Championships and USEF Dressage Seat Medal Finals taking place at the Lamplight Equestrian Center in Wayne, Illinois, August 24–27, 2017.
Photo © Astrid Appels
Related Links
Qualified Combinations for 2017 U.S. Dressage Championships Announced
2017 U.S. Grand Prix Championships Move to Gladstone
2016 U.S. Dressage Championships for Small and Big Tour Level Cancelled