2016-2017 KWPN Stallion Competition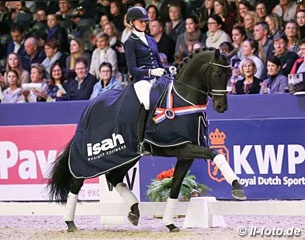 The 5-year old Trafalgar, the 6-year old Toto Jr and the 7-year old Four Legends became the winners of the 2017 KWPN Stallion Competition Finals which were held on Friday 3 February 2017 at the 2017 KWPN Stallion Licensing in 's Hertogenbosch, The Netherlands. The 2017 KWPN Stallion Competition Finals were paradoxically dominated by German bred horses and sire Totilas stamped the competition.
The 2016-2017 KWPN Stallion Competition circuit included three qualifiers held in December and January and the Finals at the Licensing in Den Bosch. Points are earned at all shows and the winners of the finals are not automatically the winners in the overall ranking. This year the Finals were extremely exciting as twice there were different day winners compared to the overall champions. The finals were judged by Karin Retera and Arie Hamoen.
In the L-level division Dinja van Liere and the German bred Total U.S. (by Totilas x Sir Donnerhall x Don Schufro), bred by Paul Schockemohle, became the day winner with 87 points and second in the final standing. Judge Retera remarked that the length in the neck had to improve The horse scored 9s for walk and canter. and 8.5 for trot. Marieke van der Putten and the Brandenburger bred Trafalgar (by Totilas x Lord Loxley) scored 83 points with 8s across the board to place second, but he booked the overall victory in the final standing. The third placed pair was Dana van Lierop on the German bred Daily Diamond (by Daily Deal).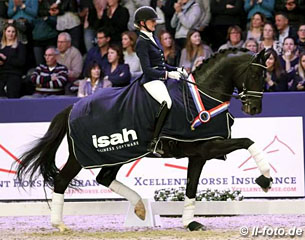 In the M-level division the day victory went to Adelinde Cornelissen on the KWPN bred Governor (by Totilas x Jazz) with 86 points. However, Marieke van der Putten and the Hanoverian bred Toto Jr (by Totilas x Desperados) took the overall victory but placed second in the final.  Kirsten Brouwer and the quite tense bay KWPN stallion Guardian S (by Bodyguard x Trento B) landed only fifth place in the finals with 82 points, but overall they were second. Governor finished third in the final standing, followed by Swedish Anna Blomgren on the KWPN bred Glamourdale (by Lord Leatherdale x Negro) who was third in the Finals and fourth overall.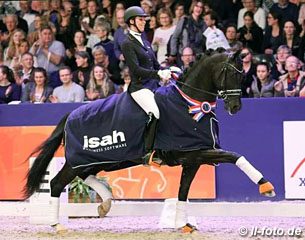 Four stallions contested the Z-level finals and the day victory as well as the overall title went to Stephanie Kooijman aboard the KWPN bred Four Legends (by Wynton x Ferro). The pair scored 86 points despite a shaky collected walk. Franka Loos and Foundation (by United x Jazz) were second with 85 points. Marlou de Ruijter and Feel Good (by Contango x OO Seven) scored 76 points and Annemarie Brouwer finished fourth on Electron (by Ampere x Fidermark) with 71 points. 
Photos © LL-foto
Related Links
Hometown, Guardian S, Foundation Win Third Leg of 2016-2017 KWPN Stallion Competition
Henkie, Guardian S, Four Legends Win Second Leg of 2016-2017 KWPN Stallion Competition
Daily Diamond, Toto Jr, Four Legends Win First Leg of 2016-2017 KWPN Stallion Competition
2016-2017 KWPN Stallion Competition with Three Qualifiers Before Finals
Previous Winners
Toto Jr, Ferdeaux, and Electron Win 2015-2016 KWPN Stallion Competition Finals
El Capone, Desperado, Cupido Win 2013-2014 KWPN Stallion Competition
Desperado, Charmeur, Bordeaux Win 2012-2013 KWPN Stallion Competition Finals
Chippendale, Bon Bravour, and Apache Win 2011-2012 KWPN Stallion Competition
Bon Bravour, Amazing Star and Zhivago Win 2011 KWPN Stallion Competition Finals
Andretti, Zhivago and Wynton Win 2010 KWPN Stallion Competition
Zizi Top, Wynton and Vivaldi Win 2009 KWPN Stallion Competition
Wynton, Johnson, Dreamcatcher Win 2008 KWPN Stallion Competition Finals
Uptown, Tolando and Florencio Win 2006 KWPN/KNHS Stallion Competition Finals
Sandreo, Scandic and Rhodium Win 2005 KWPN/KNHS Stallion Competition Finals
Scandic, Ro-Lex and Prestige VDL 2004 KWPN Stallion Competition Winners
Rousseau, Paddox and Rubels Win 2003 KNHS/KWPN Stallion Competition