IDOC News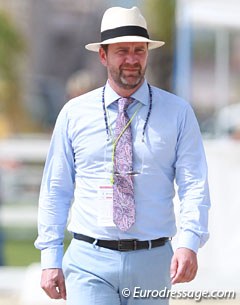 The newly elected president of the International Dressage Officials Club, Hans-Christian Matthiesen, aims to steer IDOC in a direction in which communication and education will be paramount for the future of dressage judging.
IDOC unites dressage judges world wide and assists them in reaching higher levels of professionalism by promoting the principles of horsemanship, more particularly of the schooling according to the basic rules of classic equitation; by maintaining an independent position of the dressage judges as well as an impartial exercise of the judgment activities; and by cooperating with international equestrian associations and other associations in matters which pertain to the judgment of dressage training.
At the 2017 IDOC General Assembly, Matthiesen was elected president, succeeding Stephen Clarke who finished his four-year term. The Danish 5* judge believes that this year "a lot of the focus will be on the communication part including the education, with seminars and education material to our members."
In an interview with Eurodressage he explained the relevance of IDOC in the system. "I think that IDOC is very important and with a huge potential. When you look to our "colleagues" the riders and the trainers club, they have shown that our dressage community needs something, wich is not the FEI, to connect them. The IDOC works for all officials involved in dressage. We have the sport and discipline as a common interrest, even though we work in different parts of 'stage'."
Under his leadership, 45-year old Matthiesen, who is a veterinarian by profession, hopes to enhance the communcation and education of judges on all levels.
"We have to work together, not only with the FEI but also in close connection with the Judge General, to keep the line in judging and stay true to the good system we already have, but we are also obliged to look into other and new ways on how to improve the sport. I think for all officials the welfare of the horse is paramount and it will always be important to work close together with all involved parties to keep up with the highest standards in this regard."
Photo © Astrid Appels
Related Links
Clarke Re-elected FEI Judge General, Matthiesen Elected President of IDOC 
George Williams Appointed on the FEI Dressage Committee, Replacing Matthiesen 
Hans-Christian Matthiesen To Be Appointed on FEI Dressage Committee
Hans-Christian Matthiesen, Recipient of 2015 Lis Hartel Memorial Prize
Hans-Christian Matthiesen, Chair of Danish Dressage Selection Committee