2016 German Rising Pony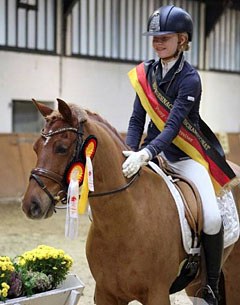 Elisa Mae Deilmann-Walsh became the winner of the 2016 German Developing Pony Rider Championships held at the indoor competition in Verden, Germany, on Saturday 19 November 2016. Aboard her 12-year old German riding pony gelding Na Also, she scored an overall total of 16.8 points for the title.
A total of 20 pairs qualified to compete in the Developing Pony Rider Championships, which are the stepping stone for young pony riders to FEI level pony sport. The combinations have to contest two L-level tests and the results are totalled for the final ranking. 
The 14-year old Deilmann-Walsh and her 12-year old Na Also (by Notre d'Amour x Felix) won the first round with 8.3 and was third in the second round with 8.5. Her overall total of 16.8 gave her the victory ahead of Antonia Busch-Kuffner on the 14-year old gelding Conroyal WE (by Constantin x Royal Diamond) with 16.6 points and Alissa Horz on Carino with 16.5 points. 
The winner was praised by German Grand Prix rider Heike Kemmer for her "fine and efficient use of aids," while German pony team trainer Cornelia Endres commended Elisa Mae's "very beautiful seat and quiet way of presenting."
Deilmann-Walsh was ecstatic with the title. "Na Also is a very cool pony. While the other ponies were still looking around, I can fully focus on the test with him," said Elisa Mae, who took over the ride on Na Also from her elder sister.
The 11-year old reserve champion Antonia Busch-Kuffner was fourth in the first round (7.6)  and won the second round (9.0). "We see a really great talent in her. Antonia already sits well balanced, rides actively and can positively influence her pony," said Endres. "I can really envisage this pair in the big pony tour."
The Rhinelander based Alissa Horz finished third after placing second (8.2) and fourth (8.3) aboard her 9-year old Carino. "Alissa is a very nice rider, who sits still in the saddle and she makes a beautiful pair with her elegant pony," said Endres. 
Related Links
Finalists Announced for 2016 German Developing Pony Rider Championship
Nele Lobbert Wins 2015 German Developing Pony Rider Championship
Jule Marie Schönfeldt Wins 2014 German Developing Pony Rider Championship