FEI News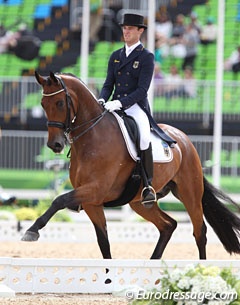 The shortlist for the FEI Awards 2016, the Oscars of the equestrian world, will be unveiled by the Fédération Equestre Internationale (FEI), the world governing body of equestrian sport, this week.
The FEI Awards, launched in 2009, put the spotlight on the men, women, young people and organisations that are making outstanding contributions to the development of equestrian sport. As we celebrate the elite performers and honour the excellence, commitment, dedication and courage of our athletes and their connections, stay tuned on the FEI social channels daily to check out the outstanding list of contenders.
Nominated hopefuls for the Rising Star award, for a person aged between 14 and 21 who demonstrates outstanding sporting talent and commitment, are Jasmin Lindner (vaulting), Sönke Rothenberger (dressage), Gilles Thomas (jumping), Gina Maria Schumacher (reining)
 
The remaining four FEI Awards 2016 categories include:
Best Groom – for that vital behind-the-scenes person who and ensures the horses they look after are given the best possible care.
Nominees are Alan Davies (dressage - Valegro), Mark Beever (jumping - Big Star), Maddison McAndrew (para dressage - Lisa Martin), and Duane Brewin.
 
FEI Solidarity – for an FEI Solidarity or equestrian development project, an individual or organisation that has shown skill, dedication and energy in expanding the sport.
Nominees are Mohamed Khalifa (EGY) , Kylie Shepherd (Equestrian Performance - ZIM), and Prince Moulay Abdellah Alaoui (President of the Royal Moroccan Federation for Equestrian Sports)
Against All Odds – for a person who has pursued his or her equestrian ambitions despite a physical impairment or extremely difficult personal circumstances.
Nominees are Rodolpho Riskalla (paradressage BRA), Manuel Franke Bertolotto (jumping CHI), Hannah Francis (eventing GBR), Pepo Puch (paradressage AUT).
Best Athlete – for the athlete that, over the past year, has demonstrated exceptional skill on the field of play and taken the sport to a new level.
Nominees are Isabell Werth (dressage GER), Nicholas Astier (eventing FRA), Nick Skelton (jumping GBR), and Sophie Christiansen (paradressage GBR).
The FEI Awards Gala 2016 will be held at the Prince Park Tower Hotel in Tokyo (JPN). Joint-MCs for the evening's celebrations will be Liz Price (GBR) and the Athens 2004 Olympic hammer champion Koji Murofushi (JPN), who is now Sports Director for Tokyo 2020. Over 350 guests representing National Federations, equestrian sport fans and the FEI's partners from around the world will join in the party atmosphere as they celebrate the achievements of the 2016 FEI Awards winners.
Related Links
Jose Eduardo Garcia Luna Wins Best Groom Award at 2015 FEI Awards
Equestrian Heroes Celebrated at 2014 FEI Awards Gala
David Ziegler Shortlisted for 2014 FEI Rising Star Award
Charlotte Dujardin Named 2013 FEI Athlete of the Year
Courtney King-Dye Wins 2012 FEI Against All Odds Award
Women Rule the 2011 FEI Awards
Adelinde Cornelissen, FEI Athlete of the Year 2011
Dressage Riders Gal and Roffman Honoured at 2010 FEI Awards
Dressage Groom Michelle Tipper Wins Prestigious FEI Award
Edward Gal, FEI Athlete of the Year 2010
FEI Launches New Global Awards