FEI Dressage News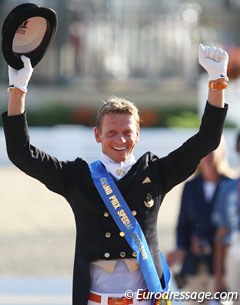 Dutch World Champion Edward Gal has been proclaimed FEI Athlete of the Year at the gala evening of the FEI Awards at the 2010 FEI General Assembly in Taipei on Friday 5 November 2010.
Gal led the Dutch dressahe team to team gold and won himself individual and kur gold at the 2010 World Equestrian Games. He also captured the 2010 World Cup Finals that same year and is a world record holder. 
Gal did not attend the FEI Awards in Taipei but posted an official reaction to the award through the Dutch Equestrian Federation. "I'm very happy with this award. It gives me an enormous boost to continue on the road I've taken after my separation from Totilas. I hope to achieve the highest level again as soon as possible with the other horses in my stable and consider this award a major support. I would also like to take the opportunity to thank wholeheartedly Cees and Tosca Visser for the unforgettable years they allowed me to experience with Totilas."
Re-elected FEI president Princess Haya of Jordan announced in a speech the reason for awarding this trophy to Edward Gal. "This trophy is awarded to a rider, driver or vaulter who over the last year has shown exceptional sportsmanship and equestrian prowess and taken the sport to a
new level. Gal is an equestrian athlete of whom we think his qualities as a rider should be honoured and who deserves our thanks and applause."
Haya continued and said that, "the attitude of the very talented Gal is characterized by his extremely responsible attitude towards his horses and he always contributes to the team spirit of the Dutch dressage team. Partly thanks to his horse Totilas, Edward Gal has become a global inspirational figure for all equestrian athletes. He is the ideal role model for the public, the media and the sponsors."
Related Links
Dressage Riders Gal and Roffman Honoured at 2010 FEI Awards
Landslide Victory as HRH Princess Haya Re-elected to FEI Presidency