FEI Dressage News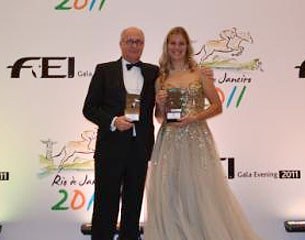 Dutch dressage team rider Adelinde Cornelissen has been named FEI Athlete of the Year 2011. She received a special trophy during the gala award dinner at the 2011 FEI General Assembly in Rio de Janeiro, Brazil.
Wearing a Reem Acra gown, Cornelissen looked smashing in her sheer taupe and golden strapless dress, which was tailor-made in Paris.
"It all started with a phone call a couple of weeks ago," Cornelissen explained. "After this I got an email from Ms Reem Acra that she offered to design my dress and sponsor my gala dress for this evening! WOW! I had to fly to Paris where I met her and we talked things through. A week ago I got the dress at home: gold and bling bling!! And up to Rio de Janeiro where the award ceremony was. A great evening!
Cornelissen had a fantastic 2011 show season, winning the 2011 World Cup Finals in Leipzig and team bronze and individual and Kur gold at the 2011 European dressage championships in Rotterdam.
"Of course I am really honoured, but without the support of mum, dad, Sjaak, my sponsors and all professionals around me and my Jerich Parzival this would never have been possibble," she said.
Cornelissen succeeds Eward Gal as FEI Athlete of the Year.
Related Links
Edward Gal, FEI Athlete of the Year 2010
Fashion Designer Reem Acra Encourages Equestrian Community to Celebrate its Stars