USPREA Breeding News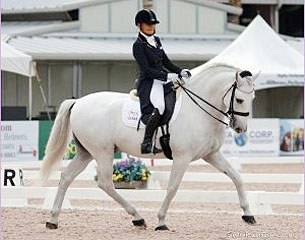 The 2016 USPRE Florida High Point Series held at Wellington's Global Dressage Festival was the biggest series to date. PRE growth in the Florida circuit is booming, helped along by breeding farms such as Yeguada Ymas, Las Moreiras and Hampton Green who brought top quality PREs and world-class riders to compete them.
Additionally, new pairs--as well as those who have participated in the High Points over the years--helped to make 2016 the most competitive and challenging High Point series to date.
The USPRE Dressage Committee, consisting of Janne Rumbough, Tina Lovazzano, Erin Lohec, Jacqueline Cuddy, Belinda Nairn and Kim Boyer, met in the fall of last year and selected 5 of the 7 Global CDIs as High Point shows, adding one more show than last year's series. This paid off with inc reasing numbers of P RE pairs throughout the winter, the greatest number showing in the final CDI (Week 12) of the GDF circuit.
The Winners for the 2016 Florida High Point are:
FEI Grand Champion
Janne Rumbough and Armas Zumbel 66.7, 68.8, 67.5 Inter 1
National Level Grand Champion
Joseph Robert Hunt and Orgulloso MOR  68.4, 66.6, 66.9  Third Level
Youth Grand Champion
Kerrigan Gluch and Vaquero HGF  68.2, 67.05, 67.7 Young Riders
With over 25 PREs and 20 riders in the most competitive shows in the US, there were some notable highlights to report:
Jacqueline Cuddy and Malcarat with 68.8 at their national Grand Prix debut in Wellington.
Spanish mare Truhana de Ymas with close to 68% in international Young Riders with Juan Matute Guimon.
Mexican-owned and bred Lenin MOR, with Spanish Olympian Juan Antonio Jimenez, with 70.2 at national Inter 1.
Kerrigan Gluch and Vaquero HGF taking second place in both CDI Young Rider classes at the Palm Beach Derby with scores to 68%.
The young horse team from Las Morerias, led by Remache MOR scoring over 75% in FEI 5 Year Old levels.
Janne Rumbough with Armas Zumbel, Hannah Pierucci with El Espiritu, Elena Schiefele with Infanta HGF, all achieving high marks their respective FEI levels.
Canadian Olympian David Marcus joining his partner Nicholas Fyffe as a PRE rider, obtaining scores over 70% with Wendy Inch's Presumido at Third Level.
For all the amazing accomplisments and for more pictures, click here.
Related Links
Join the P.R.E. Community by Subscribing to the USPRE Catalog of Breeders and Breeding Stock
USPRE Announces Dates and Locations for 2016 High Point Series in California and Florida
2016 USPRE Week Celebrates the PRE Horse with Party and Educational Week in Wellington
California USPRE High Point Series Kicks Off for 2016