2016 Olympic Games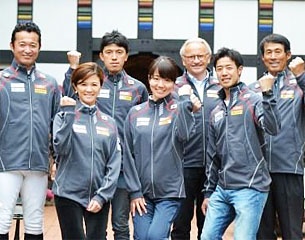 The Japanese equestrian federation is the first to officially announce their team for the 2016 Olympic Games in Rio de Janeiro on 9 - 15 August 2016. The Japanese federation held an official two-day selection event at Hof Kasselmann in Hagen, Germany, on 1 - 2 June 2016, where the team was decided.
Japan qualified a team for the Olympics by beating South Africa at a special qualification event at the CDI Perl-Borg in September 2015 which was open to competitors from FEI Olympic Groups C, F and G. Over the past few months six Japanese Grand Prix riders achieved the Minimum Elegibility Score of 2x 64% and got invited to participate in the Japanese Olympic selection trial in Hagen, where they had to ride the Grand Prix test on both days. The four highest scoring riders made the team.
Six riders and seven horses qualified for Hagen. At the selection trial Yuko Kitai and Don Lorean became the highest scoring rider with a score average of 69.234%. She was followed by Masanao Takahasi on Fabriano (66.334%), Kiichi Haradi on Egistar (65.783%) and Akane Kuroki on Toots (65.183%). They were judged there by Svalling, Fouarge and Ebert.
Shingo Hayashi was scoring very well this season on his new ride, Anne van Olst's schoolmaster Clearwater, but the horse was lame in Hagen and failed the vet check there. Hayashi also competed at the trial with Ramses der II (average score 63.950%). The Japanese federation, represented by chef d'equipe Terui Shinichi, appointed them as team reserve. 
The Japanese team selected for Rio includes:
Yuko Kitai and Don Lorean
Masanao Takahasi on Fabriano
Kiichi Haradi on Egistar
Akane Kuroki on Toots
Reserve: Shingo Hayashi on Ramses der II
The scores in Hagen were:
Rider - Horse - Grand Prix 1 June - Grand Prix 2 June ---- Average
1. Yuko Kitai - Don Lorean - 69.900 - 68.567 --- 69.234%
2. Masanao Takahasi - Fabriano - 64.600 - 68.067 --- 66.334%
3. Kiichi Haradi - Egistar  - 66.100 - 65.467 --- 65.783%
4. Akane Kuroki - Toots - 65.633 - 64.733 --- 65.183%
5. Shingo Hayashi - Ramses der II - 64.967 - 62.933 --- 63.950%
6. Kazuki Sado - Ziroco - 64.500 - 62.833  --- 63.667%
Shingo Hayashi - Clearwater - ELI
Related Links
Eurodressage Coverage of the 2016 Olympic Games
Japanese Olympic Selection Trial Scheduled for 1 - 2 June 2016 in Hagen
Japan Pips South Africa by the Narrowest of Margins at Olympic Team Quaifier at 2015 CDI Perl