German Dressage News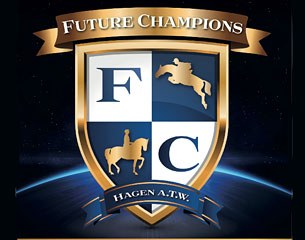 German youth riders will be going full force to the 2016 CDIO-PJYR Hagen, also known as Future Champions, at Hof Kasselmann in Hagen am Teutoburger Wald, Germany, on 7 - 12 June 2016.  Future Champions in Hagen will be the final selection trials for German pony, junior and young riders before the teams are announced for the 2016 European Championships.
Based on results achieved at the 2016 Preis der Besten in Warendorf last weekend, German team trainers and selectors picked the following riders to represent Germany in the Nations Cup legs of the different age categories
Pony Riders - CDIO
Lucie-Anouk Baumgürtel - Massimiliano
Tabea Schroer - Danilo
Inga Katharina Schuster - Cyrill
Junior Riders - CDIO
Semmieke Rothenberger - Geisha (or Dissertation)
Hannah Erbe -Carlos
Rebecca Horstmann - Friend of mine
Young Riders - CDIO
Anna Christina Abbelen - Fürst on Tour
Jil-Marielle Becks - Damon's Satelite
Anna-Lisa Theile - Ducati K
A large field of youth riders will also be contesting the normal CDI classes in Hagen and can still ride themselves in the picture for a team spot.
Pony Riders - CDI
Julia Barbian - Der Kleine König
Helen Erbe - White Love B
Linda Erbe - Dujardin B
Eileen Henglein - Cinderella M
Luna Laabs - Carlos WE
Liselott-Marie Linsenhoff - Golden Girl
Katharina Ottenweß - Mondsilber
Anna Schölermann - DW's Flic Flac
Junior Riders - CDI
Marlina Garrn - Di Baggio
Liselott-Marie Linsenhoff - Danönchen OLD
Maike Mende - Rothschild
Luca Michels - Rendezvous
Bettina Nuscheler - Fascinate
Lana Raumanns - Feodor
Elisa Timmermann - Don Henrico
Alexa Westendarp - Der Prinz
Young Riders - CDI
Anna-Christina Abbelen mit First Lady
Claire Louise Averkorn - Condio B and Alonso V
Anna-Louisa Fuchs - Rien ne va plus
Marie-Christin Kogel - Harkon
Jessica Krieg - Revers Side
Leonie Richter - Babylon
Franziska Schwiebert - Fuerst Rohan
Related Links
Schuster, Rothenberger, Becks Win 2016 Preis der Besten
German Youth Riders Wield the Axe of Power at 2015 CDIO-PJYR Hagen
Rothenberger and Nowag Win 2015 German Youth Riders Championships