Eurodressage F.O.C.U.S.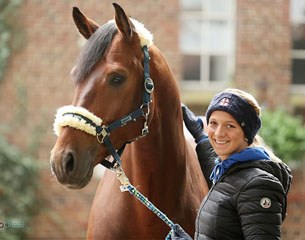 Scoring the job as head rider at the renowned German stallion station and brood farm Gestut Nymphenburg in 2010, 29-year old Tessa Frank feels privilidged to work and ride at this prestigious organisation and enjoys being part of such a great team of experts.
"The president of the Oldenburg stud introduced me to Mr Helmut von Fircks, who is the owner and manager at Gestut Nymphenburg.  I was offered the job, and the job is just wonderful for me," Tessa told Eurodressage. "We have amazing horses and a great team. We also have  the perfect opportunity to train and improving our riding skills."
Though 29 years of age, Frank is coping well with the responsibility of heading the riding team at the station. She is also assisted by Eike Bewerungen, who trains the youngest stallions. Frank receives professional training from the German Developing GP rider trainer Olivier Oelrich as well as Bernhard Fischer.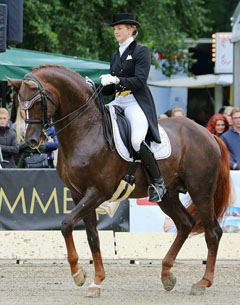 "Since I started at Nymphenburg, I have been working with Oliver Oelrich. Last year I began training the young horses with Bernhard Fischer," Frank confirmed. She first began her dressage training with Hans-Jürgen Armbrust, one of the outstanding trainers in Hanoverian breeding and a man known for his very special empathy for young horses. 
Her first major success at S-level was with horses Earl of Nymphenburg (by Ehrentusch x Ribot) and the 10-year old Hanoverian licensed breeding stallion Fürst Nymphenburg (by Florencio x De Niro). One of her career highlights to date is winning the bronze medal at the 2011 Bundeschampionate in Warendorf with the 5-year Simply Nymphenburg, which afterwards sold to American Olympian Cesar Parra.
"The most important horse here for me is Fürst Nymphenburg as I have been riding him since I began working here, and training him since he was five," Tessa eplained. "This year we began our first Intermediare II tests together, as well as some young horse Grand Prix classes."
Tessa is also excited about her future star 4-year old Hanoverian licensed stallion Nymphenburgs First Ampere (by Ampere x Weltruhm).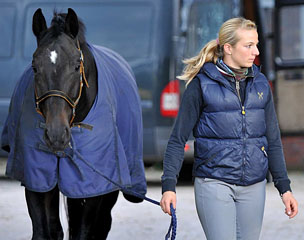 "I see this horse as a big prospect for next year," said Tessa who qualified no less than six horses for the 2011 Bundeschampionate, a historic feat. Frank also added the title of North German Professional Dressage Rider Champion to her tally after winning the championships in Schenefeld in September 2015.
Frank kick starts each day at seven in the morning. She has clearly found her groove at Gestut Nymphenburg as not a day goes by when she does not feel cerntain that this job was made for her, despite life's ups and downs.
"I ride about 10 horses per day, plus I also teach my three students and file some paperwork in the office," she explained. "Everyday is a lot of fun and on the weekend most of the time we are at horse shows."

Working at Gestut Nyphenburg is more that just a job, it is her passion, her life. "Of course there are days where I am tired of the hard work, but there is always a situation that come up to remind me why I am here," said the level-headed rider.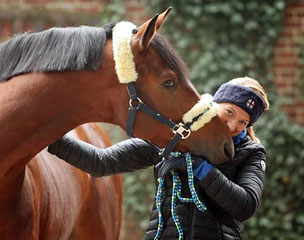 Frank acknowledged that the biggest challenge of her dressage career so far has been her anonimity as a rider at the beginning. When she first started out nobody believed that she could become a successful rider.
"It was my first trainer Heike Stegemann that gave me the confidence to think I could do it. It didn't help that my family would rather that I pursue a University study," she confessed.
For more information on Gestut Nymphenburg, visit www.gestuet-nymphenburg.de
by Sarah Warne  - Photos private
Related Links
Gestut Nymphenburg Qualifies a Record of Six Horses for 2011 Bundeschampionate
Change in Management at Gestut Nymphenburg
Gestut Nymphenburg Team Sweeps the Board at the Base Jungpferde Cup in Munich
Let it Be and Best of Nymphenburg Win 2015 Olfen Bundeschampionate Qualifier
Flirtfaktor, Samoura M, Romulus von Nymphenburg Win the 2014 Hagen Bundeschampionate Qualifier
Stallion at Stud: Furst Nymphenburg I
Stallion at Stud: Nymphenburg's First Ampere
Hanoverian Riding Horses Selected for the 2014 Bundeschampionate
Stern von Nymphenburg Wins 2012 Munich Bundeschampionate Qualifier
Romanov and Furst Nymphenburg Sire Champions at German Foal Show in Lastrup
Sir Nymphenburg, Sacre Coeur and Furstengruss Win 2010 Balingen Bundeschampionate Qualifier
Full House at Gestut Nymphenburg's First Stallion Show
Sir Nymphenburg, Champion of the 2008 Suddeutsche Stallion Licensing