USPREA Breeding News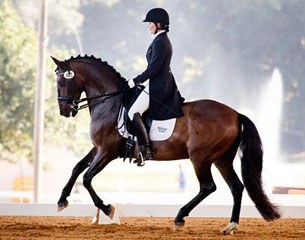 The United States PRE Association is pleased to announce the winners of its annual Copa USPRE (Breeder's Cup) for 2015. The higher degree of difficulty in the directives for the Copa 2015 resulted in fewer pairs making the final ranking. We are proud of those pairs who were able to complete all of the requirements and who represented the PRE Horse with excellence in dressage competitions around the country. Congratulations to the Champions, and our thanks to all who competed as part of this year's Copa USPRE.
Copa USPRE Final Rankings 2015
Big Tour Champion: Jacqueline Cuddy on Balado (owned by Jacqueline and Liam Cuddy) - Total Average: 62.68S
Small Tour Champion: Stacey Hastings on Police  (owned by Coves-Darden Farms) - Total Average: 68.168
Small Tour Reserve Champion: Nicholas Fyffe on Fiero HGF (owned by Nicholas Fyffe) - Total Average: 67.554
Young Rider Champion: Kerrigan Gluch on Vaquero HGF  (owned by Hampton Green Farms) - Total Average: 68.172
FEI 6-year old Champion: Felicitas Von Neumann Cosel on Aragon GAF(owned by Craig and Cynthia Roberts) - Total Average: 7.20
FEI 6-year old Reserve Champion: Katherine Breiner on Pirata XXXIII  (owned Julie Keany) - Total Average: 6.64
The 2015 Copa Champions and Reserve Champions make up our 2016 USPRE Dressage Team. We are pleased to see Felicitas Von Neumann-Cosel, Nicholas Fyffe, Stacey Hastings, and Jacqueline Cuddy returning, plus newcomers Kerrigan Gluch and Katherine Breiner. 2015 USPRE Team members have had a great year with their horses and we are excited to have them back for 2016:
–Jacqueline Cuddy won the Grand Prix Copa Championship with Balado, a different horse from last year, and also successfully introduced last year's Copa winner Malcarat to Grand Prix over the past twelve months.
–Stacey Hastings returns this year with her highly successful Small Tour horse Police, owned by Coves-Darden, whom she introduced to international competition earlier this month at Dressage at Devon.
–Kerrigan Gluch and Vaquero HGF, in their first year together and first year at the Young Rider levels, were USEF Reserve National Champion and NAYJRC Bronze medalists.
–Felicitas Neumann-Cosel continues to move Aragon GAF up the levels with a successful first year at FEI 6 Year Olds. Additionally, Aragon GAF had notable placings at the Breed Show at Devon, winning the PRE Breed class and Reserve for the GAIG Mature Horse and the GAIG/USDF Stallion Champion class.
–Nicholas Fyffe introduced Fiero HGF to the FEI Small Tour national levels in Wellington this year as a seven year old, and the pair received scores above 70%.
This concludes the Copa USPRE for 2015, but kicks off a new season as of 1 October! For more information about the Copa USPRE and USPRE Dressage Team, see the Dressage Menu of this website.
For more information on USPRE, visit www.usprea.com