2015 Spanish Young Horse Championships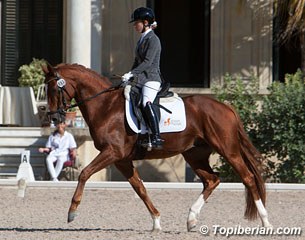 The 4-year old Lario de Adama de Susa, the 5-year old Sarotti, and the 6-year old Summernight became the grand champions of the 2015 Spanish Young Horse Championships held in Jerez de la Frontera, Spain, on 23 - 27 September 2015.
In the 4-year old division a tough fight took place between the gold and silver medal winners Maria Albinana Sanz ended up with highest honour after steering Yeguada Adama de Susa's Hanoverian bred Lario (by Locksley II x Rotspon) to a first place in round 1 (85.600%) and a third place in the second round (82.400%) to total 83.771% for gold. Juan Manuel Acosta Ponce and the Oldenburg bred Salobre TR (by ) finished in silver medal place after a second (81.800%) and first place (83.00%) to average 82.486%. Francisco Esteve Gassent landed the bronze medal aboard Silvia Roman's Westfalian Valerio (by Vitalis out of Sina). They scored 80.80 (4thà and 82.80 (2nd) for 81.943%.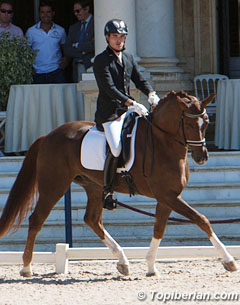 In the 5-year old division the youngsters had to perform in three tests for the final ranking. Juan Carlos Diaz Amor and Omnium Team's Oldenburg bred Sarotti (by Sarkozy) were the undefeated champions with three winning scores of 83.800%, 87.600% and 86.800%. Juan Francisco Fernandez Munoz claimed silver aboard his own Hanoverian bred Fine Time (by Furst Nymphenburg). He moved from sixth place (76.600%) to fourth (78.00%) and then second place (84.400) to finish second overall. Claudio Castilla Ruiz rode Hierro MG's Dutch warmblood Forte MG (by Rousseau) to bronze with 82.600%, 79.800% and 79.200%.
Jesus Fajardo Ortega was the undisputed champion in the 6-year old division aboard Yeguada Sola Nogales' Hanoverian bred Summernight (by Swarovski x Caprimond). The horse won all three rounds with 77.60%, 80.20% and 78.60%.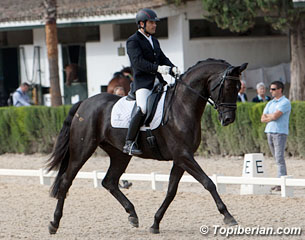 The conquest of silver was a bit more difficult for Laura Reija Belart on her Dutch bred Everest (by Winningmood). She was fifth (75.800%), eighth (75.800% and third (77.200%) which sufficed for silver. Paul Pereda Ortega and Yeguada Adama de Susa's Hanoverian Sardon (by Sandro Hit x Worldly) finished in the bronze medal position with scores of 76.800% (2nd), 78.00% (5th), and 74.800% (9th).
Photos © Top Iberian
Results - 2015 Spanish Young Horse Championships
4-year olds
1. Maria Albiñana Sanz - Lario de Adama de Susa -  85.600% - 82.400% --- 83.771%
2. Juan Manuel Acosta Ponce  - Salobre TR - 81.800% - 83.000% --- 82.486%
3. Francisco Esteve Gassent - Valerio -  80.800% - 82.800% --- 81.943%
4. Sergio Navarro Vicente   - Beyonce - 80.200% - 81.800% --- 81.114%
5. Alberto García Martín   - Delirio PT - 81.600% - 77.800% --- 79.429%
6. Luis Quilis Galán - Romeo - 77.000% - 78.800% --- 78.029%
7. Sergio Gómez Márquez - Emy's Star - 76.600% - 78.600% --- 77.743%
8. Sergio Martí Pérez   - Zandberg - 77.000% - 78.000% --- 77.571%
9. Sergio Martí Pérez   - Sky Walker - 76.400% - 77.800% --- 77.200%
10. Martí Frigola Doblado - Daphne - 73.600% - 77.400% --- 75.771%
11. Alejandro Sánchez del Barco - Quincallo de Indalo - 74.600% - 76.200% --- 75.514%
12. Laia Barranco Font - Furst Flanagan - 75.000% - 73.400% --- 74.086%
13. Maria Albiñana Sanz - Bambi de Adama de Susa - 74.400% - 72.800% --- 73.486%
14. Carlos Nieto Benavides - Besana - 74.800% - 72.200% --- 73.314%
15. Luis Javier Cañada Fernández - C Castelnovo - 76.000% - 70.400% --- 72.800%
16. Jesús Fajardo Ortega - Scolari - 72.800% - 71.300% --- 71.943%
17. Jordi Triay Caimaris - Bon Somni GSM - 72.800% - 69.800% --- 71.086%
18. Magí Mateu López - Superior HV - 2.800% - 68.400% --- 70.286%
5-year olds
1. Juan Carlos Diaz Amor - Sarotti - 83.800% - 87.600% - 86.800% --- 86.400%
2. Juan Francisco Fernandez Muñoz - Fine Time - 76.600% - 78.000% - 84.400% --- 80.533%
3. Claudio Castilla Ruiz - Forte MG - 82.600% - 79.800% - 79.200% --- 80.156%
4. Rafael Heredia Muñoz - Furtiva -  73.600% - 75.600% - 80.200% --- 77.200%
5. Alba Abollo Fontela  - Elvillar CS - 74.200% - 74.800% - 79.600% --- 76.800%
6. Tamar Zafra Raya - Sonata - 79.600% - 80.000% - 72.200% --- 76.444%
7. Juan de Dios Ramírez García  - Quaterback - 71.600% - 71.600% - 80.000% --- 75.333%
8. Marc Vila Amils - El Passo - 79.400% - 71.800% - 75.000% --- 74.911%
9. Juan Manuel Acosta Ponce  - Albeitar TR - 78.800% - 75.000% - 72.800% --- 74.867%
10. Carlos Nieto Benavides - Divina Royal - 71.400% - 74.400% - 75.400% --- 74.178%
11. Carlota Piguillem Llovet  - Fleurine - 69.600% - 72.600% - 74.000% --- 72.556%
12. Angel Dorado Martínez - Frerana - 70.800% - 72.000% - 73.600% --- 72.444%
13. Jonathan Bautista Valderas - Poeta CVI - 75.200% - 68.800% - 73.600% --- 72.356%
14. Antonio Vivancos Cervantes - Wettel de Oliveira  - 74.000% - 70.600% - 72.000% --- 71.978%
15 Alberto García Martín  - Jara FS - 66.600% - 74.600% - 72.600% --- 71.933%
16. Edda Ripoll Kuhnen  - Brisa - 73.200% - 73.000% - 70.400% --- 71.889%
17 . Alfonso Gormaz Torcal - Keita II - 74.400% - 74.200% - 68.800% --- 71.844%
18. Moisés Gavilán Moya  - Lanzado VIII - 74.800% - 71.000% - 69.000% --- 70.956%
6-year olds
1. Jesús Fajardo Ortega - Summernight - 77.600% - 80.200% - 78.600% --- 78.911%
2. Laura Reija Belart - Everest -  75.800% - 75.800% - 77.200% --- 76.422%
3. Raúl Pereda Ortega   - Sardon - 76.800% - 78.000% - 74.800% --- 76.311%
4. José Antonio García Mena - Belconi - 73.800% - 78.000% - 76.200% --- 76.267%
5. Carlos Nieto Benavides - Florianus - 73.800% - 76.200% - 76.100% --- 75.622%
6. Alfonso Gormaz Torcal - Juncal LXVII -  72.000% - 75.600% - 77.400% --- 75.600%
7. Fidel Díaz Amor  - Waltzak - 71.400% - 78.800% - 75.200% --- 75.556%
8. José Antonio García Mena - Ules VDOS - 75.800% - 76.800% - 74.200% --- 75.422%
9. Cristian Tudela Ruiz - Filou - 75.800% - 75.000% - 75.400% --- 75.356%
10. Ivan Pozas Gómez - San Francisco - 75.200% - 79.600% - 71.800% --- 75.156%
11. Sarah Rengel Spindlow - Mayordomo Caldero II - 74.800% - 74.000% - 75.400% --- 74.800%
12. Jordi Domingo Coll - Intruso de Mile - 75.600% - 73.200% - 73.000% --- 73.644%
13. Francisco Gil Ortiz - Israel -  73.400% - 73.600% - 73.800% --- 73.644%
14. Raquel Beneyto Rodríguez - Scarlett - 71.600% - 73.600% - 74.200% --- 73.422%
15. Jesús Fajardo Ortega - Sunfire -  72.200% - 74.000% - 72.800% --- 73.067%
16. Rafael Soto Rosado - Euclides - 72.400% - 74.800% - 69.800% --- 72.044%
17. Raúl Piedra Alonso - Evrano T - 72.000% - 74.200% - 69.200% --- 71.489%
18. Ivan Pozas Gómez - Sixtus -  71.800% - 72.200% - 70.200% --- 71.222%
Related Links
Fine Time, Eastwood, Dragao Figueiras Win 2014 Spanish Young Horse Championships
Ules VDOS, Doctor de Encinasola, Mango Statesman Win 2013 Spanish Young Horse Championships
Dancing Dream, Dhannie, Dai Colori Vistosi Win 2012 Spanish Young Horse Championships
Firmamento, Manchego and Alcaide Win 2011 Spanish Young Horse Championships
Bently, Artouche, Delmonte Win 2010 Spanish Young Horse Championships
Zanzibar, Donna Clara and Finja Win 2008 Spanish Young Horse Championships