2015 U.S. Dressage Championships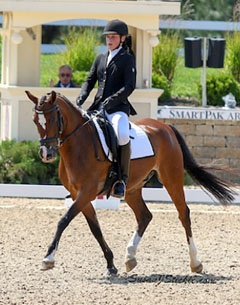 On what started out as a gloomy day on Sunday 23 August 2015, Chase Hickok and Allison Nemeth shined, winning the  U.S Under 25 'Brentina Cup' Championship and U.S. Pony Rider Championship on the final day of the 2015 U.S. Dressage Championships in Wayne, ILL. A field of 10 combinations performed the U25 Intermediare II Test and eight combinations competed in the Pony Individual Test where 50% of the score was added to the 50% earned in the first test to determine the overall national champion.
Nemeth, 2015 U.S. Pony Champion

There was not a surprise in the Pony Individual Test. As on day one, Nemeth (Flemington, N.J) and her own Weser Ems German Riding Pony Pablo S dominated. They earned a high score in today's test with a 69.39%, for a 70.165% overall to win the U.S. Pony Rider Championship. Pablo S looked focused and tackled every aspect of the test gracefully, especially in the trot and simple changes.
Pablo S is an experienced FEI dressage pony imported from Great Britain, where he took Brits Megan Carpenter and Georgina Starkie through FEI Pony level.
"I'm super happy and thankful to be here. This whole experience has been amazing, and I just feel so lucky that I got to be apart of it," said Nemeth.
Mckenzie Milburn (Bothell, Wash.) and her own Westphalian Pony gelding, Darius, struggled in the final test. Darius acted hot and too energetic, which caused the pair to break rhythm a couple times. However, he displayed better trot work than the team test. The judges awarded them a score of 67.330% for an overall score of 67.628% giving them Reserve Champion.
Coming in third place was Brynne Varvel (Bloomington, Ind.) and her own Morgan Pony gelding V Back in Black with an overall score of 64.665%. The combination was more collected, which improved the canter from the team test.
Hickok Wins 2015 U.S. Under 25 Championship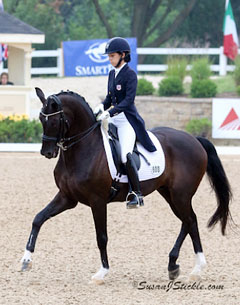 All eyes were on Hickok (Wellington, Fla.) and Hyperion Farm's KWPN Sagacious HF (by Welt Hit II) coming into the Intermediare II Test as they were the pair to beat. However, the other combinations were no match for them and they were named U.S. Under 25 Champions. Hickok and Sagacious HF ran away with the title due to a clean and consistent test. Their piaffe-passage and pirouettes improved from the first test and they exhibited nice changes.
"I'm just so pleased to be sitting here, especially with Sagacious HF. He's such a wonderful, perfect horse. We had a rocky beginning, so to look back now, a year and a half later, and be standing here in the company of such amazing pairs, it's really humbling and exciting," said Hickok.
After finishing second on day one, Sierra Keasler (Wellington, Fla.) and Caroline Roffman's Danish Warmblood gelding, Lux Stensvang, were hoping to achieve a come from behind victory. Unfortunately, the pair got a little out of their rhythm early in the test contributing to a lower score. However, it was not enough to affect their overall ranking as they earned a 64.605% in the final test for an overall score of 65.535% to take Reserve Champion honors.
"Today wasn't quite my day, but I did what I could with my horse. He was a little tense. I was a little tense. There were some good parts to it. He was very forward thinking, but we had a couple bobbles. However, I'm still here, and that's good enough for me," said Keasler.
After finishing in the bottom four of the first test, Melanie Montagano (Doswell, Va.) and her own KWPN mare, Ga Deva, knew they would have to have a quality test to compete with Hikok and Keasler. They followed through with a nice performance for an overall score of 64.132%, good enough for third place. Even though the pair was off in their one tempi-changes, they were consistent in the piaffe-passage. Montagano also took the judges advice from the first test and paid attention to the coefficients, which came through for them today.
Photos © Sue Stickle
Related Links
Scores 2015 U.S. Youth Riders Championships
Chamberlain and Frederick Take First Titles at 2015 U.S. Youth Riders Championships
Gluch, Frederick, Hickok on Top after First Day at 2015 U.S. Youth Riders Championships
America's Young Riders Convene for 2015 U.S. Dressage Championships