2015 CDIO Rotterdam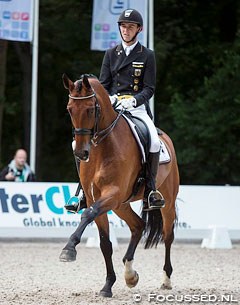 One of the most talked about rising Grand Prix combinations of the moment is without a doubt 20-year old Sönke Rothenberger and the 8-year old Dutch warmblood gelding Cosmo. After making a winning Grand Prix debut in the national developing GP horse class at the CDI Hagen, the pair rocked the house in the international Under 25 division at the 2015 CDIO Rotterdam on 19 - 21 June 2015.
Sönke Rothenberger is the 2008 European Pony Champion but instead of transitioning to junior level dressage, the Bad Homburg based rider switched to show jumping for a couple of years. The bay Dutch gelding Cosmo, however, drew him back to dressage and made Sönke decide to put his tails back on. With the 7-year old Cosmo Rothenberger qualified on the German team and competed at the 2014 European Young Riders Championships in Arezzo, Italy, where they won team gold and individual test bronze.
The talented gelding (by Van Gogh x Landjonker) has Grand Prix written all over him with his spectacular gaits and amazing ability for the collected work. The saying goes "what is good, comes fast" and nine months after Arezzo Sönke and Cosmo won the Louisdor Cup qualifier at the 2015 CDI Hagen with mid seventy percentage scores. The horse was the talk of the show and immediately rumours spread that offers were made to buy the horse for an astronimical amount of money.
"It's true that we received a few of such offers recently. There was interest from abroad since the 2014 European Championships but especially round Hagen and Rotterdam there were a few people willing to pay any amount for Cosmo," Sönke told Eurodressage. "This horse means a lot to our entire family. We've had him since he was four and he's one of the few horses who is fortunate to potentially participate in three Olympic Games due to his young age. We really do not want to sell him. Secretly I hope for a partnership with people who also dream of the future of this horse and want to go that way together with us."
Now based in The Netherlands where he is studiying International Business Administration at Nijmeghen University, Sönke has taken Cosmo into the Under 25 division as preparation for senior Grand Prix next year. In Rotterdam the duo impressed the judges and crowds as a league of their own, scoring 75.767% in the Short Grand Prix and 79.975% in the Kur to music.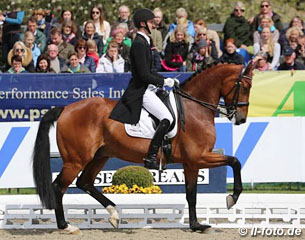 "Comso felt very good in the warm up and preparation for Rotterdam," said Sönke. "In the Grand Prix he was a bit distracted but in the kur he felt out of this world. There still were a few small things, but I was super content and I think that he really showed off his qualities and talent there. We have been working on getting more power and self carriage. He felt so good that a start in Rotterdam was a spontaneous act."
The duo's ultimate goal is clear: the 2016 Rio Olympic Games. This is why Sönke's father, German born Dutch Olympian Sven Rothenberger, refuses to sell Cosmo.
"Riding Rio 2016 with Cosmo is definitely a dream of mine," Sönke admitted. "But he's only 8 years old and he's already performing so well, so I can just wait and see what the future brings."
Photos © Focussed.nl - LL-foto
Related Links
Scores: 2015 CDIO Rotterdam
Sonke Rothenberger Trains with Anky van Grunsven
Rothenberger and Cosmo in Command in Team Test at 2014 European Young Riders Championships
Sonke Rothenberger Back in the Dressage Ring with Cosmo