Portuguese Dressage News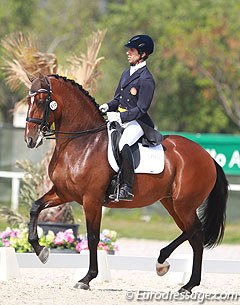 Portuguese Gonçalo Carvalho's Grand Prix horse Batuta has tested positive to controlled medication at the 2015 CDI 5* in Vidauban, France, on 11 - 15 March 2015. The FEI exclusively confirmed the positive medication test to Eurodressage today.
The FEI stated that, "the horse Batuta, ridden by Gonçalo Carvalho, was selected for testing at Vidauban CDI5*. The sample has tested positive to a Controlled Medication Substance. An administrative procedure has been opened against the Person Responsible. Neither the horse nor the rider are provisionally suspended."
The positive medication case has not yet been officially published on the FEI website.
"Under the rules on FEI Public Disclosure, no entry will be made on the FEI website in this case until the Administrative Sanction is accepted by the Person Responsible, and we cannot comment any further on this case," FEI press officier Malina Gueorguiev told Eurodressage.
Batuta is a 9-year old Lusitano mare by Quixote out of Jandaia (by Icaro). She is registered with the FEI as owned by her breeder Sociedade Quinta Terras since 2010. However when in 2014 Spanish Jose Antonio Garcia Mena started to score major victories with her in her first international Grand Prix tests she was listed as owned by Coudelaria Herdade das Figueiras. Batuta was started as a youngster by Figueiras' young horse rider Bruno Moreira, followed by Pedro Matos. She then left Portugal to go into FEI level training with coach Jan Bemelmans, who allocated the ride on her to Garcia Mena.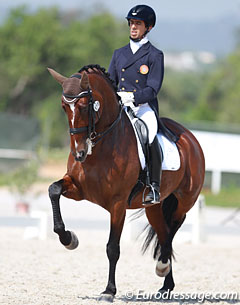 In July 2014 Batuta sold to a new Portuguese owner, the syndicate International Sport Horse Investment, with Mario Franco as head of the group. 2012 Portuguese Olympian Gonçalo Carvalho got the ride on the mare.
Carvalho and Batuta travelled to Vidauban, France for the two weeks of competition there, but did not compete the first CDIO week. The second week, however, she contested the 2015 World Dressage Masters. She finished second in the Grand Prix with 73.140% and won the Grand Prix Special with 77.765%. One month later the pair competed at the CDI Vilamoura in Portugal, but the mare performed below par, tense and distracted by the surroundings. She finished last with 59.360%.
Carvalho and Batuta were entered to compete at the 2015 CDIO Saumur and are currently in France. They were scheduled to ride the Grand Prix today (1 May 2015) but scratched.
Photos © Astrid Appels
Related Links
Goncalo Carvalho Gets Ride on Batuta
Goncalo Carvalho Wins 5* Grand Prix Special at 2015 CDI Vidauban
Youngsters on the Road to Rio: Super Nova and Batuta Shine in CDI3* Grand Prix at Barcelona Dressage Tour 2014
Michel and Garcia Mena Clinch Kur and Special at 2014 CDI3* Barcelona Dressage Tour