2015 CDI Vidauban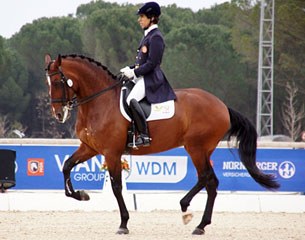 Gonçalo Carvalho from Portugal came to Vidauban to compete in the CDI3* but had to withdraw as his top horse was not entirely fit after the trip from Portugal. After a few days rest, the pair was back in action and started in the WDM 5* Grand Prix at the 2015 CDI Vidauban in France on Friday 13 March 2014.
Carvalho had already surprised everybody with his second place in the 10.000 Euro WDM Grand Prix and on Saturday 14 March he scored a personal best in the 10.000 Euro WDM Grand Prix Special: 77.765%.
"I am so happy and especially very happy with my horse. She is just perfect! I ride her for one year now and she is a dream come true." On his Facebook page he wrote: "It is impossible to describe what I'm feeling, I'm the happiest rider in the world !!!! Batuta 77.765%. Best mare of the world."
His horse Batuta, formerly ridden by Spanish dressage rider Jose Antonio Garcia Mena, is a 9-year-old Lusitano mare with great basic gaits and  an amazing passage and piaffe, which were awarded with 9s and 10s. Gonçalo has been riding since he could walk, his father and uncle were riders too. He learned his riding skills at the Escola Portuguesa de Arte Equestre (the Portuguese School of Equestrian Art) in Lisbon and now he is trained by Bemelmans .He represented Portugal at the European Championships in 2011 and 2013, at the 2010 World Equestrian Games and at the 2012 Olympic Games in London were he finished 16th with the Lusitano stallion Rubi. He hopes to start at WDM Munich in May and take part in the Freestyle.
Australia's Briana Burgess rode a solid test with the Rheinlander gelding La Scala 3. It was impressive to see how good she manages this horse. It is not always an easy horse to ride and it showed her great riding skills the way she performed this Special. Briana is trained by Patrik Kittel. The combination scored 70.118%.
Third place went to Grete Püvi from Estonia with her KWPN mare Talent. Her horse has a real good passage and piaffe and that was awarded with 68.392%. The level of dressage in Estonia is growing and Grete tries to help as much as she can. She hopes the new WDM initiative to support some events in upcoming countries, like the show in Tallinn in October 2015.
"We will help to further develop dressage in the region. Perhaps through this initiative of WDM and its sponsor VIAN Group  there will be a chance that new nations are integrated in the top level competitions one day."
Text by WDM - Photo © WDM
Related Links
Scores 2015 CDI Vidauban
Eurodressage On the Scene at the 2015 Vidauban Dressage Festival