KWPN Breeding News
The Royal Dutch Sport Horse Studbook in North America (KWPN-NA) welcomes sport horse enthusiasts to join in events and festivities during their upcoming annual meeting to be held March 25 - 28, 2015 in conjunction with the 2015 CDI 3* in San Juan Capistrano, CA.
The KWPN-NA Annual Meeting features an impressive roster of world-renowned speakers and practical demonstrations together with evaluations of real horses and FEI-level competition. This event combines a dynamic atmosphere of education with live international horse sport in the stunning setting of the Rancho Mission Viejo Riding Park
"Our annual meeting is an important way for our organization to provide new information and connect with our members," said Willy Arts, Chairman of the KWPN-NA Board of Directors.  "But it's also open to the public and is a terrific opportunity for people to receive education, share knowledge, and network with other horsemen and women, obtaining ideas and information to take back and use in their own breeding and sport programs."
This year's theme of the KWPN-NA Annual Meeting is "Evaluating the Dutch Horse for Continued Breeding Success" and the meeting's featured presenter Marian Dorresteijn.  Famous in the Netherlands for her work with her sister Coby (van Baalen-Dorresteijn) from breaking and training young ponies and horses for the IBOP testing to training and competing at the Grand Prix level, Dorresteijn is also well known as a judge for both the KWPN mare inspections and the young horse competitions.  She is the first and only female jury member for the KWPN Stallion Keurings, and most notably Dorresteijn has been a member of the KWPN Stallion Selection Committee for dressage horses since 2012.
 
As keynote speaker Dorresteijn will provide attendees with a chance to learn from the best of the best with an in-depth look and training in the Linear Scoring method of evaluating Dutch stallions and breeding horses.  Dorresteijn will also be joined by renowned KWPN inspector Bart Henstra, who explained why he is looking forward to returning to the KWPN-NA Annual Meeting as a featured presenter.  
"During every meeting we have special clinics focusing on a specific educational theme which always include a line-up of very knowledgeable horsemen and women who are leaders in the industry, all of this combined with a great facility and in conjunction with a great competition, makes this meeting a unique, wonderful equestrian event," Henstra said.  "What I hope attendees will take away from the meeting this year is that there are very strong correlations between breeding, keurings, and sport. Equestrians need to understand what a functional conformation looks like and how it affects the sport ability of a horse, and how through breeding you can change those abilities in future generations of sport horses. Breeders need to understand what riders and drivers are looking for in equine athletes at about 7 to 10 years of age and try to breed for that with support of the breeding tools that the KWPN-NA offers and the knowledge breeders have themselves. This is what makes the circle complete: breeders need the equestrians, and equestrians need the breeders."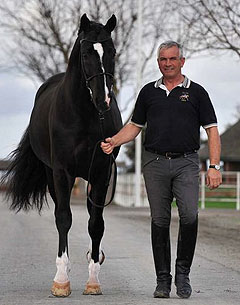 Following daily presentations by Dorresteijn and Henstra, attendees will have the special opportunity to move from the classroom to the competition arena where they will be given a chance to put what they've learned into action by completing their own evaluations of elite jumping and dressage horses at the show grounds.
"We are so excited to be able to organize our annual meeting in conjunction with these two horse shows, all in the same place," explained Arts.  "This lovely venue and the quality of horses and riders which will be on-site during this event will give us the best opportunity to educate our members, and will also be a great opportunity for riders, trainers, and owners to learn about identifying horses' ability and the talent needed for the FEI level at a younger age.  Learning how to evaluate conformation and movement on prospective top performers and then see how it directly translates to live performance, all in the same day, is an incredible opportunity for all attendees (whether a KWPN-NA member or not) to learn valuable criteria for selecting a super show horse prospect or breeding their own."
Related Links
KWPN Appoints Three Female Stallion Licensing Committee Members
What's Happening: April 2013 - Part 1
Flieka Wins 2013 KWPN Mare Championship
Finesse Passed Away