What's Happening in the Dressage World?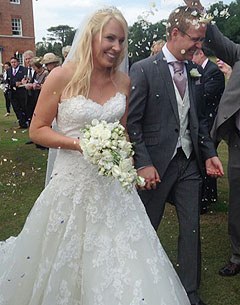 After a 7-year engagement British 2010 WEG team rider Fiona Bigwood finally got married to her partner of 18 years, Danish Grand Prix rider Anders Dahl. The couple held a lavish wedding party at Brocket Hall in Welwyn, UK, on Saturday 26 July 2014.
Bigwood celebrated her hen party in Barcelona a few weeks before. For the wedding she wore a lace strapless gown with sweetheart neckline. Bigwood and Dahl have three children together, Mette, Morten and Lars. "I had the most amazing day," Bigwood commented the day after her wedding. 
"I married the man I have loved for the last 18 years in front of the best group of people and lovely friends. It was a fairytale wedding for me and I feel so blessed."
The Dutch former FEI horse and broodmare Finesse (by Aktion x Onyx) passed away at age 27. Bred by KWPN selector Marian Dorresteijn, Finesse was competed up to Grand Prix level. In 1996 Marlies van Baalen became Dutch Junior Riders Champion on the mare and they won team silver at the European Junior Riders Championships. In 2003 she sold to the Van Bregt family. Daughter Sheela competed her at junior riders' level. Finesse proudced Kirby (by Fruhling), who is the grand dam to the Blöf (by Uptown).
German small tour rider Heidi Braun got attacked by a stranger with a knife on Monday 21 July 2014.  When Heidi noticed smoke on the field she immediately ran to the place where she had her hay and straw stored close to the indoor school. Heidi noticed a man there and when she tried to question him, he ran away but Heidi caught him. She got stabbed with a knife in the leg and chest.  Heidi's mum came to the rescue and gave first aid while she called the fire department and ambulance to save her daugther. More than 1000 straw bales were destroyed by the fire, the total amount of the damage is estimated at 35,000. Braun was released from the hospital five days later.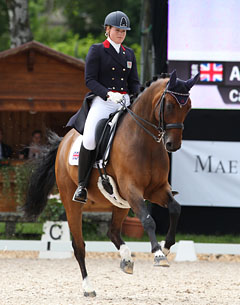 Former British young rider team member Alex Hardwick has just purchased two Totilas babies to secure her future in the sport. She acquired the 2-year old Toto Trend Setter and 3year old Toto Tarantino, both are out of international dressage mare Madonna, who was formerly competed by Lizzie Murray, daughter of Jennie Loristan-Clark. "The two Totilas boys will do a bit of everything, jumping, cross country and hacking just enjoying they're early years. Allowing them to grow and mature and see the world," Hardwick explained. Alex just started training with Carl Hester and runs the family base, Hallingbury Hall Equestrian Centre, where she trains her string of competition horses, all home produced herself from babies.
Elite Trakehner stallion Kasparow (by Sixtus x Kostolany) passed away at age 19 following a colic attack on 14 July 2014. Bred by Bernd Berge in Germany and Dutch owned, the black stallion was approved after his performance test and sold via the Klosterhof Medingen Elite Auction. He sired stallions Titulus, Insterpark and Redecker.
Danish FEI riders Ditte Mikkelsen and Stine Døssing have moved to Vodskov, Denmark, to strengthen Andreas Helgstrand's team of riders at his yard.
The 22-year old Dutch Welsh bred licensed pony stallion Bjirmen's Wytse (by Vita Nova's Hanassie out of Kooihuster Wietske (by Downland Folklore x Burstye Orpheus)) has passed away at his French home, Haras de l'Eguille, where he stood up for stud. Wytse was bred by S. Jukema in The Netherlands and last owned by the French P. van Hak. In 2003 he was member of the British pony team under Georgina Somerset at the 2003 European Pony Championships in Ireland. In 2007 he competed with British Elizabeth Corrie. At the end of 2007 Wytse became a schoolmaster for 2012 European Junior Rider Champion Dana van Lierop and in 2009-2011 he was the FEI pony of Dutch Junior Rider team member Jasmien de Koeyer.
Wilma Wernsen's Grand Prix Oklarette (by Ferro x Candy Boy) has been retired from competition at age 18. The Dutch warmblood keur mare is in foal to Bordeaux and did her last international show in Deauville last weekend.