Child Stars - Where are they Now?
Former Dutch pony team silver medal winning rider Kimberley de Jongh gave up horses and riding after tragedy ended her very promising career at junior riders level. While she remembers her dressage dreams her life has now taken a new direction in professional body building.
"I started riding at age give and I really got going in the competition world when I started on the very talented pony Just You 'n Me," Kimberley told Eurodressage.  "While we had many set backs in the beginning, once we started our training with top coach Penny Rockx we improved very quickly."
De Jongh's child star career highlight came at the 2007 European Pony Championships where she and her grey gelding Just You 'n Me (by Pion x Grandioso) won team silver and finished sixth individually.
Kimberley then moved to the junior division with her horse Luciano Pavarotti (by Pavarotti van de Helle) and began training with Coby van Baalen.
"Pavarotti was not the easiest horse to ride and he was totally unlike the ponies I had experienced," she admitted. "We decided to buy a more stable horse and purchased schoolmaster Inspekteur who had previously been officially retired from the sport."
Inspekteur (by Darwin x Amor) had been an incredibly reliable Dutch junior and young riders' team horse with Marlies van Baalen, Danielle van Aalderen, Marrigje van Baalen, Wendy van der Helm,  and finally with Kimberley de Jongh.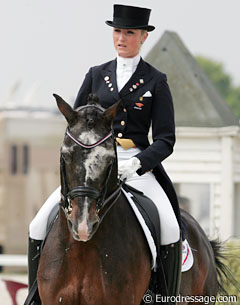 Together the pair reached new heights. They won the 2009 Dutch Championships at ZZ-Licht level and were fifth at the 2010 Dutch Junior Riders Championships. They felt 200% ready to take on the European Junior Riders Championships. and Kimberley felt it was 20-year old's Inspekteur's last chance, it was now or never. However they were not selected on the team but appointed reserve combination, which was disappointing.
"In June 2012 Inspekteur died suddenly of oesophageal obstruction and that was a huge slap," De Jongh confessed. "My motivation went away and I decided to stop riding officially.  It was a difficult decision as at that point riding was my life as well as for my father Erik, who had always supported and helped me."
The 22-year old Kimberley no longer has horses and has turned her focus to a new profession: body building.
"Horses are now totally out of my life and honestly sometimes I look back at the great moments and I think what a great time it was, but it no longer motivates me to start again. There is just not enough that I miss."
De Jongh has always loved sports and competition, though, and decided to tackle something completely new that is also quite physical. After picking up kick-boxing she found a new passion for strength and muscle tone.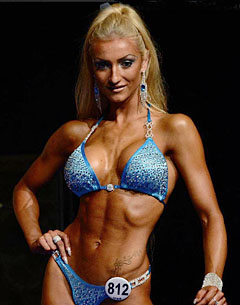 "I started body building and heard through the grapevine about Fitness Bikini Contests that seemed really super because a good body and appearance are very important to me," she explained. "This was a totally different direction, one with a new goal and no team work required. So I went to train with body building star Liona Bergman."

De Jongh has been very successful on the body building stage and has won several bikini contets. She acknowledged that she was amazed at her success in this field in such a short time.
"I earned the title of Dutch Champion in the Bikini class and I am now competing at the European championships. It is my new profession," she added. "I do not think I'm ever going to get back into horse sport, but never say never. They say what drives you to horses will never leave you, so we'll see what the future brings."
by Sarah Warne for Eurodressage - Photos © Astrid Appels - Barbara Schnell - private
Related Links
Dutch Teams Selected for 2010 European Junior and Young Rider Championships
Scores: 2010 Dutch Dressage Championships
Prijs, Van der Drift, De Jongh in Submitted to Dutch A and B Teams
Dutch Junior and Young Riders Team Updated
Inspekteur Sold to Kimberley de Jongh
Scores: 2007 European Pony Championships