Dutch Dressage News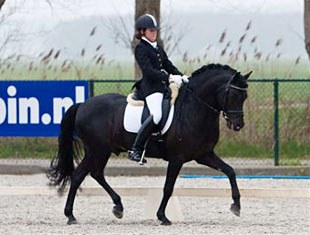 Chiara Prijs, Brigit van der Drift and Kimberly De Jongh have been submitted to the Dutch A and B youth teams following their good performances at Dutch national dressage shows.
Fourteen-year old Chiara Prijs Vitale, who holds the double Dutch-Italian nationality, has been promoted to the Dutch pony B-team with her black stallion Mastwood Blackberry (by Mastwood Pepperson). In 2008 Chiara Prijs competed for Italy at various international pony competitions, though the young pony rider lives in The Netherlands. Chiara is trained by Mathy Boomaars and her mother Raffaelina Vitale, a former international Grand Prix rider for Italy. Prijs will be riding for Italy in 2009 unless Dutch pony chef d'equipe Christa Laarakkers selects her for the Dutch team. Prijs will be competed at the CDI-P Saumur, Weert, Moorsele and Bonn in preparation for the Italian team selection for the 2009 European Pony Championships held in Moorsele, Belgium.
Dutch junior rider Brigit van der Drift has been promoted to the Junior A-team. Her good performances with Twister (by Havidoff) at the Dutch Junior Riders selection trial in the KNHS/CHIO Cup in Assen made team trainer Tineke Bartels decide to submit her to the A-team. Van der Drift hails from Hoofddorp, The Netherlands
Junior A-team rider Kimberly de Jongh has qualified her second horse for the Dutch teams. With her steady partner 16-year old Luciano Pavarotti (by Pavarotti van de Helle), who was previously shown by Ilse van Cranenbroek, De Jongh is a member of the A-team. Her new horse New Amsterdam (by Amsterdam) has been submitted to the B-team. De Jongh trains with Coby van Baalen.
Pony Riders A-Team
Maria van den Dungen - Rembrandt DDH
Dana van Lierop - Equestricons Lord Champion
Anne Meulendijks - Boticelli
Denise Nekeman - Hoby
Antoinette te Riele - Danny Boy and Golden Girl
Pony Riders B-Team
Rosalie Mo - Hamahr du Bois
Chiara Prijs - Mastwood Blackberry
Junior Riders A-Team
Brigit van der Drift – Twister
Sanne van Grotel – Melvin V
Kimberley de Jongh – Luciano Pavarotti
Angela Krooswijk – Roman Nature, Flash, Revino 
Michelle van Lanen – Incredible
Emma Peper – GP People's Westenwind
Junior Riders B-Team
Kimberly de Jongh – New Amsterdam
Teddy Wiedeler - Topper
Related Links
Dutch Pony A-team Updated, Selection Trials Announced
Eurodressage Coverage of the 2008 European Pony Championships
Eurodressage Coverage of the 2008 European Junior Rider Championships