FEI Dressage News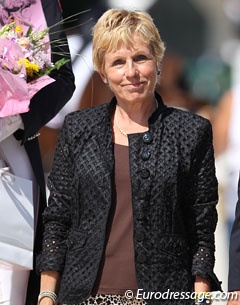 The FEI has appointed the ground jury that will officiate at the 2015 European Dressage Championships held in Aachen, Germany, on 12 - 16 August 2015.
From a longlist of 12 judges, the FEI drew the official shortlisted panel of seven, including two reserve judges, on 25 November 2014.
The 2015 European Dressage Championships will be judged by:
Katrina Wüst (GER) - president of the ground jury
Anne Gribbons (USA)
Andrew Gardner (GBR)
Eddy de Wolff van Westerrode (NED)
Susanne Baarup (DEN)
Jean-Michel Roudier (FRA)
Annette Fransen-Iacobaeus (SWE)
The first reserve judge is Wojtek Markowski (POL), the second reserve is Thomas Lang (AUT).
Photo © Astrid Appels
Related Links
Date Set for 2015 European Dressage Championships
Aachen to Host 2015 European Dressage Championships
2015 German Nations Cup to Take Place in Hagen