2014 German Developing Pony Rider Championships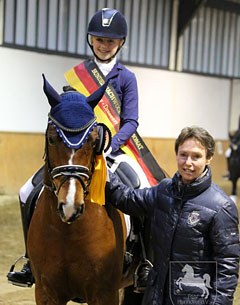 The 14-year old Jule Marie Schönfeldt has won the 2014 German Developing Pony Rider Championships, a competition set up to promote the transition of pony riders to FEI pony level and to scout for talented pony riders which a potential to make it on a national pony team. Nineteen combinations in total were qualified to compete at the Championships.
The Finals of the 2014 German Developing Pony Rider Championships were held in Verden, Germany, on 15 - 16 November 2014.
Abord the 7-year old mare Tyra M (by Dumbledor x Principal Boy), Jule Marie Schönfeldt won the warm up round at A-level with 8.7 and the final round at L-level with 8.9. With a total of 17.6 she won the overall title.
Schönfeldt was praised by judges and commentator Dolf Dietram Keller for her "harmonious and smooth riding. Jule Marie has developed the potential of her pony to the fullest and rode the extensions with risk." German pony team trainer Connie Endres was also in Verden to scout for talent and praised Jule Marie for her "very active and harmonious riding. She produced two good tests and rode with much concentration. She showed a very sympathetic natural position in the saddle."
Marlene Sieverding and the experienced 13-year old grey stallion Doubtless (by Don't Worry x Niklas) were the reserve champions with a total of 17 points. They were fourth in the A-level test with 8.2 and second at L-level with 8.8.  "Doubtless is just a delightful pony," Endres commented. "He already took three children to the German Championships and is a real professor. Marlene has made much progress this year."
The overall third place went to Carolina Meyer zu Strohen on the 10-year old mare Philina (by Dressmann x Luxor) who finished second in the first round (8.5) and fifth in the second round (8.4). She totalled 16.9 points. "She presented a nice and elegant image in the ring," said Keller. "There were a few issues in the collected canter which is required at L-level." Endres added that "Carolina has a very nice seat but the competition is of course not sleeping here."
Results: A-level test - L-level test
Photo © PSV Han
Related Link
Finalists Announced for 2014 German Developing Pony Rider Championships