FEI Dressage News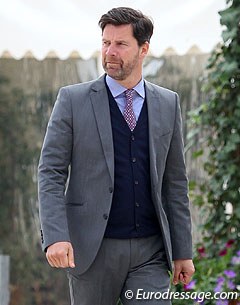 The FEI Dressage Committee has promoted two dressage judges, Hans Christian Matthiesen from Denmark and Mariette Sanders-van Gansewinkel from the Netherlands, to 5* status, the highest ranking in the FEI system.

 
With their new 5* status (formerly known as O-status), which comes into effect on 1 July, Matthiesen and Sanders-Van Gansewinkel (NED) will now be eligible to officiate at major FEI Dressage events, including Olympic Games, World Equestrian Games, World Cup Dressage Finals and FEI Championships at Grand Prix level.
There is a three-year probation period for all new 5* Dressage Judges, after which the judges are evaluated.
These latest promotions brings the number of 5* Dressage judges to 33.
"We are very pleased to see these young judges achieving the level of knowledge and skill sets needed for promotion to the highest rank of judges in the world," said FEI Dressage and Para-Dressage Director Trond Asmyr. "It shows their dedication and strong commitment to the sport."
Five-star judges currently active are Susie Hoevenaars, Mary Seefried, Thomas Lang, Elizabeth McMullen, Cara Whitham, Susanne Baarup, Leif Tornblad, Isabelle Judet, Bernard Maurel, Jean Michel Roudier, Evi Eisenhardt, Peter Holler, Dietrich Plewa, Gotthilf Riexinger, Katrina Wust, Stephen Clarke, Andrew Gardner, Isobel Wessels, Vincenzo Truppa, Maribel Alonso, Eddy De Wolff van Westerrode, Wim Ernes, Ghislain Fouarge, Francis Verbeek, Wojtek Markowski, Annette Fransen Iacobaeus, Gustav Svalling, Liselotte Fore, Anne Gribbons, Gary Rockwell, and Linda Zang.
Photo © Astrid Appels
Related Links
Baarup, Fore, Fransen-Iacobaeus, Lang, de Wolff Promoted to O-Judge Status
Gardner and Wessels Promoted to O-Judge Status
Peter Holler Becomes O-judge
Furuoka and Ernes, Also Promoted to O-Judge Status
Bernard Maurel Appointed Head of French Equitation UNESCO Project and Documentation Department
Belgian Mariette Withages Retires as International O-Judge