British Dressage News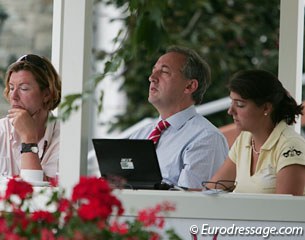 Isobel Wessels and Andrew Gardner have been awarded 'O' or 5* Judging status. The duo join Stephen Clarke as Britain's only judges at this level and it means they are now eligible to judge at Championships around the globe.
Just 30 or so elite judges from around the world hold this level.
Andrew juggles his judging with practising full time as a Chartered Surveyor in Cardiff. He's a professional member and examiner for the Royal Institution of Chartered Surveyors and is a Fellow of the Royal Society for Arts. His judging career started some 25 years ago and he's now a list 1 judge. Part of the working party that formed British Dressage and a past Board Director, Andrew was Chairman of Judges for two terms and he currently sits on the committee overseeing judge training and examinations.
He commented: "I'm exceptionally lucky – I have already had many fantastic opportunities and visited beautiful locations during my judging but this just adds an extra dimension. I'm pleased and feel very honoured to be promoted. I must thank my friend and mentor Stephen Clarke as he has given me so much support and training to get me to this level; I owe him a lot."
Dressage has been fundamental to Isobel's life for over 30 years – riding, training and judging.   Her main passion is training horse and rider. She's trained eight horses to Grand Prix level and trains riders all over the world. When she gave up competing internationally, she developed her judging career, becoming a full international judge in 2003. This has never compromised her love of training which was clearly demonstrated this April when she took two titles at the NAF Five Star Winter Championships with the promising Chagall (see video) whom she owns with Brigit Powell. Her judging schedule is relentless at about 30 competitions each year.
"I'm looking forward to the challenges and responsibility of judging at this level. But, also very conscious of being part of such a skilled and highly experienced group of individuals. It's a great honour for me and I'm really excited. I have had huge support from some top 5* judges especially Ghislain Fouarge and of course Stephen Clarke - I am enormously grateful," said Isobel.
With the Ground Jury of Stephen Clarke (GBR), Maribel Alonso (MEX), Evi Eisenhardt (GER), Wojtek Markowski (POL), Jean Michel Roudier (FRA) and Mary Seefried (AUS) and FEI Dressage Judge General Ghislain Fouarge (NED) as president confirmed for this year's European Championships in Rotterdam confirmed and the long list for the 2012 Olympics already drawn up, Isobel and Andrew will need to wait for their first opportunity to judge at a Championship in Europe.
Photos © Astrid Appels
Related Links
Stephen Clarke Appointed President of Ground Jury for 2012 Olympic Games
Gary Rockwell and Anne Gribbons New O-Judges
Wüst, Törnblad and Roudier New O-Judges