FEI Dressage News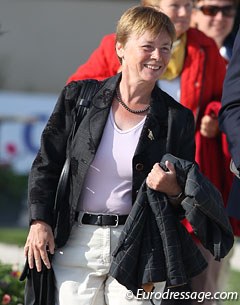 A group of nine Dressage and Para-Dressage judges from Austria, Denmark, Germany, Great Britain, Hong Kong, the Netherlands, Sweden, and the USA have been promoted to 5* status, the highest rank, by the respective FEI Technical Committees.
The promotions, which will come into effect on 1 July, will allow the judges to officiate at major FEI Dressage and Para-Dressage events, such as FEI World Cup™ Dressage Finals, FEI Championships at Grand Prix level, FEI World Equestrian Games™, and the Olympic and Paralympic Games.
The list of the new 5* judges is:
Dressage:
Susanne Baarup (DEN)
Liselotte Fore (USA)
Annette Fransen Iacobaeus (SWE)
Thomas Lang (AUT)
Eddy de Wolff van Westerrode (NED)
Para-Dressage:
Eva Bachinger (AUT)
Alison King (HKG)
Sarah Leitch (GBR)
Marco Orsini (GER)
These promotions will bring the number of 5* Dressage judges to 34, and 17 for Para-Dressage.
Also from 1 July, 5* Dressage judge Mary Seefried (AUS) will become a member of the FEI Dressage Judges Supervisory Panel (JSP). The role of the Panel, which was created in 2011, is to ensure consistency and accuracy of judging as well as to provide an additional level of monitoring at major FEI Dressage events. Although the JSP does not judge the competition, it is authorised to change marks when a technical mistake in judging has been made. It also monitors the performances of all FEI Dressage judges. The JSP consists of six members.
"I would like to congratulate all the judges on their promotion and wish the best of luck to Mary in her new role on the Judges Supervisory Panel," FEI Dressage and Para-Dressage Director Trond Asmyr commented. "Our sport is growing and these appointments reflect its global development and appeal."
Related Links
Lang and Bachinger Receive O-Judging Status
Gardner and Wessels Promoted to O-Judge Status
Peter Holler Becomes O-judge
Furuoka and Ernes, Also Promoted to O-Judge Status
Gary Rockwell and Anne Gribbons New O-Judges
Wüst, Törnblad and Roudier New O-Judges