2014 Spanish Dressage Championships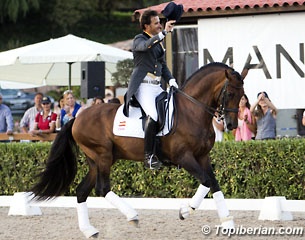 Spain has crowned its new dressage champions and it was not only the Grand Prix Championships that took place at the Barcelona Dressage Tour at Can Alzina on 5 - 8 June 2014, but also the Para dressage riders celebrated their top national competition of 2014. José Daniel Martín Docks and Hampton Green Farm's Pure Bred Spanish Grandioso III won the Yeguada de Ymas Trophy, the 2014 Spanish Grand Prix Championship with an overall score of overall average of 74,287%.
After winning in 2011 Martin Dockx won the second national Championship they participated in. It was a very tight tie break on Sunday with 2013 Spanish champions José Antonio García Mena and Norte Lovera (overall 74,230%) breathing down the winning couple's neck. In third place there was Morgan Barbançon–Mestre with her mare Vitana (overall 71,311%). She had come a long way from Holland to Barcelona and received a nice compensation for the effort, winning the bronze medal at her first nationals ever.
The Barcelona Dressage Tour hosted the event at their wonderful facilities in Can Alzina with the Collins, Elias, Vila families and Topiberian behind the scene. The atmosphere was very nice once again and lots of spectators were on the spot. The live streaming assured that audiences all over the world could enjoy this summer weekend in Barcelona, one of the best Championships ever.
After Madrid's huge Festival de Doma Clasica CDI Madrid everybody enjoyed to be in petit comité. it was calm but interesting, there was action and peace, horses and riders enjoyed these first days of real Spanish summer time.
Selection Trial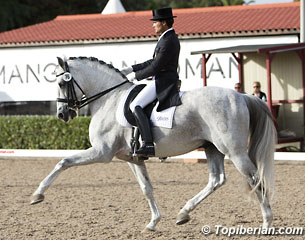 These Championships showed real quality, they highlight Spain's current level and riders felt good about their most important home show. With 130 combinations at the start it was a considerable turnout. Not only did the audience appreciate to be able to celebrate their idols but also the riders themselves pointed out that it was a national event with real top level and suspense until the last moment.
Championships have been an issue the last seasons, held at the end of the year with horses and riders tired after a busy summer of important international events. Not all horses could attend and many times some of the top pairs were missing.
This time the championships were scheduled as a WEG selection trial and not only for the adult combinations heading to the WEG at the end of the summer in Normandy, but also for Young Horses and for Young Riders, Juniors, Children and Ponies Championships were being observed by the national selectors. So they all came, the best of the best and in many categories there was good quality.
Grand Prix Yeguada de Ymas Trophy 2014
For José Daniel Martin Docks and Grandioso III (by Adelante x Sevillano IX) it was only their second Championships after 2011 where they had won just at the beginning of their joint career. The PRE had been sent from the USA to Spain to be ridden by José Daniel under the direction of Jan Bemelmans in 2011, Spain's national trainer at the time. One Olympic event and a European Championships in Herning later, representing Spain on the team, they are again in top form claiming their spot on this year's WEG team. Dani couldn't be happier.
It was interesting to see how two equal combinations were disputing the title, two extraordinary riders both with Iberian horses. José Antonio García Mena and Norte lovera (by Cortesano VII x Iluminada VII), a well-known PRE stallion that has been around since the 2014 WEG in Kentucky. Besides their particular will to work and giving nature, lovely extensions, expression and collected gaits are the strong points of both of these horses without any doubt.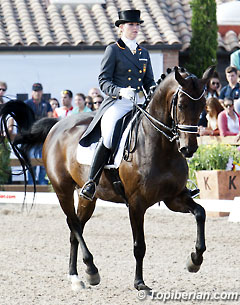 The Barbançon-Mestre sisters had come all the way to Spain with their trainer Andreas Helgstrand to compete on Spanish soil after six years abroad. Morgan and Vitana (by Donnerhall x Hemmingway) took the bronze medal. Alexandra, who had just finished final exams at school and had little time for preparation with Don Lorean (by Don Larino), has taken a big jump from the junior class right into the adult top level but the challenge paid off with an overall fifth. Both rode considerably better day after day, they did a nice job learning and improving every time. One can observe that it is a whole family project, they all took the chance to visit their mom's home city, Barcelona. Marie Carmen Mestre was very happy and excited for her kids' success.
Lauro Aguiló and Hierro  confirmed their sweet moment with another quality performance. The Spanish crossbreed (by Ferro x PRE mare Babieca) came fourth. An ecstatic Lauro was very pleased with his results. "The horse is stable and we have overcome all our problems, now I can ride him and we can show his quality and see what we can achieve," he said.
Team candidates Carmen Naesgaard and Ricardo were missing. The southern young lady, daughter of an Andalusian mother and a Norwegian husband, was very upset. "I am devastated. He was so ready to go, but I hurt my back and I can´t make it," she explained. The Spanish Federation has now assigned them to ride the test event in Caen, along with the 2013 King's Cup winner, Cristobal Belmonte, the two of them share trainer Isidro Maldonado. Lauro Aguiló with Hierro and Olympic rider Juan Antonio Jimenez are also nominated.
Mango CRITERIUM 2014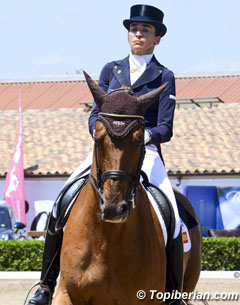 Beatriz Ferrer Salat and her Hanoverian Du Pre are the best newcomers at PSG level. She was training him for her pupil and friend Carolina Usandizaga who just had her baby, but couldn't resist to stay away from the barn smell. In September she wants him back! But this was a nice finish for Bea's short sports career with the red coated son by Don Frederico. Bea brought of course Sir Radjah (6th in the overall Grand Prix ranking) who did well. "We have plenty of time, I am in no rush, the best was his Grand Prix and that was important to me, in the Special and the Kür he still lacks some strength, we'll work on it," she stated. Ton de Ridder, her trainer, confirmed the positive evolution: "we are not heading to the WEG but we always do have a surprise up our sleeve." Juan Antonio Jimenez Cobo and Elevado took the silver medal at PSG level with a beautiful Kür in which they rose to the top. Angel Dorado became third with the mare Preciosa.
Young Horses Masters - The Mon de Pra 5-year-old Trophy
The young horse classes, sponsored by the Moncayola family, showed excellent quality. For two days in a row Quarter Back Junior (by Quaterback) owned by Michelle Widner from Carmona and ridden by Alejandro Azores, gave a nice presentation of an almost perfect dressage horse.
Young Juan Matute and the Ymas' stallion Jamaicano de Ymas III (by Estanquero de Ymas x Jamaicana IV) confirmed their possibilities, their goal is to represent Spain's homebred PRE horse at the World Young Horse Championships. Not only the Ymas horses had flown over from Wellington, but the whole Ymas team was present with Cristina Danguillecourt, Javier Bacariza and the Matutes.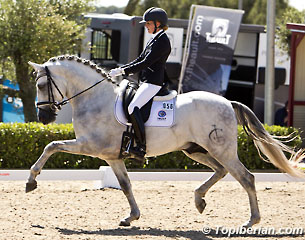 The Dutch rider Emmelie Scholtens is a very successful rider of young horses at the World Championships. She fell in love with Genciano BCN (by Datil x Genciana), the PRE stallion which was brought to her last autumn. She travelled all the way from Holland to be at the Spanish selection trial and became third overall. They achieved another 80% mark, necessary to become selected, last weekend in The Netherlands competing under the eyes of 5* judge and Dutch team chef d'équipe Wim Ernes. Co-iwners Agustí and Annabelle have launched other interesting young horses together with Emmelie in former years, remember Borencio, vice champion in Verden 2012.
The Barbançons supported the 6-year old class in which José Antonio García Mena placed his Lusitano Dragao da Figueiras and Doctor Encinasola (by Scandic), first and second; the rider of the home team, Agustí Elias from BCN Horses, took the ride from his wife and presented Dimacho. They finished third overall and were happy.
The selection committee ANCCE will have the last word on who is to represent the Spanish breed in Verden.
Youth Riders Championships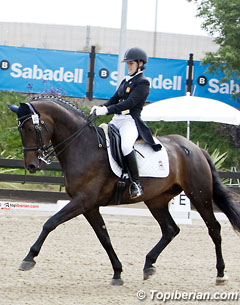 Stakes were high also for the young riders, as the Nationals counted as  selection for the Europeans in Arezzo. Cristina Torrent and De Vic were the overall winners, everyday better and better including their beautiful freestyle with music that reminded of their home island Menorca with the sound of birds and the ocean. A technically difficult test reached high marks, 73,250% was the final average. Josep Bassols and Dustin caught the attention with their rides and Mios Moncayola with Zchufro showed two excellent tests, if it hadn´t been for a spook in the Kür they would have been the clear overall winner. Laura Mangado from Robledales with her Kwpn Tempo (by Ferro) came close with her performances and earned the fourth spot on the team.
Junior rider Juan Pablo Matute got the team spot in his category with Dhannie Ymas as well as his sister Paula o, Firmamento Ymas. The Matute kids shone bright as well in the U25 division in which they competed with Don Diego Ymas and Tarpan Ymas, two Grand Prix horses which are ready to go to Aachen in the U25. Catalina Makhmudova with Alandro will join them on the Junior team.
All hopefuls of Spain's national Pony Team did compete with average marks around 68%. There were Sofía Argelich and Desparo, Patricia Bou and Piccolo, Carla de la Fuente and Kronprinz, and Diego Martínez on Picachu. A nice young team from different Spanish regions, are friends united by their ponies and it was a joy to watch them admiring their idols. They would not miss one warm up of their stars Beatriz, José Antonio, José Daniel, Severo, Morgan, etc. One of the important aspects of these Championships was connecting the future of Spanish dressage with adult professional riders.
Para Equestrian Championships 2014
Last but not least, the Barcelona Dressage Tour not only hosted the Grand Prix Championships but also the Para equestrian riders with their annual top event. Some combinations are trying to achieve the qualification for the WEG. For example in Grade IV, PRE-breeder Olga Jorda presented her homebred Tenaz (by Karateka), one of the first Spanish licensed stallions.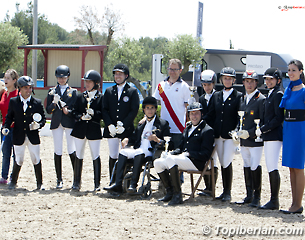 Begoña Fernández López and Calimero (63,6%) won the Grade I test, the victory in Grade II was for Claudia Lazcoz and Afortunado VII (66,8%). Alberto Ferrol and his Eco de Tormenta (68,25%) were the best pair in Grade III.
Emotional prize givings and a closing dinner wrapped up these Championships, a wonderful event in the nicest ambience. Spanish riders came from far, not to forget Severo Jurado, who once left the Riding School in Ronda where he had started his professional career, and now after seven years abroad in Holland and Denmark, he came back for the first time to compete in Spain. He was very successful in the Grand Prix level aboard one of Andreas Helgstrand's horses which only made its debut in Grand Prix a couple of weeks ago. Severo says the difficult road  was and is worth it and riding again in Spain has been a big pleasure for him.
The 2014 Barcelona Dressage Tour keeps on surprising time and again as Spanish dressage receives an important input with series like this, Organizers as Topiberian and the amazing support of several committed horse people. In the forefront the families Collins, Elías, Vila counted on the sponsoring of Yeguada de Ymas, Banc Sabadell, Mango and Audi Superwagen, the Barbançons and Piscinas Mon de Pra. Tote Vignau Azafatas generously supported the show with their hostesses.
Text by Katharina Braren - Photos © Top Iberian - Celeste Ribo
Related Links
Scores: 2014 Spanish Dressage Championships
Spanish Team Selected for 2014 European Pony Championships
Spanish Teams Selected for 2014 European Junior and Young Riders Championships
2014 Spanish Dressage Championships at BCN Dressage Tour on 5 - 8 June