2013-2014 KNHS FEI Pony Cup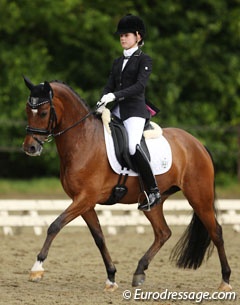 Dutch pony shooting star Zoe Schipper and the French bred German Riding pony mare Dolce Vita were the winners of the sixth and final leg of the 2013-2014 KNHS FEI pony cup show circuit, held at equestrian sport centre Gert van den Hoorn in Kootwijk, The Netherlands on Saturday 17 May 2014.
In the absence of Holland's number one pony pair, Zoutendijk and Champ of Class, new comer Schipper was able to steer herself to victory with a 73.120%. Her partner in crime is the bay mare Dolce Vita (by Valido), which was previously and better known as the French and Belgian team pony Oualidaluna. When the mare sold from Belgium to The Netherlands, they changed her name.
Thirty-three riders in totaled gathered in Kootwijk and more than half of the field scored above 65%. Judge Jan Enne Kloosterboer commented that "the average quality was very high and if you compare the competition today with one of a few years ago, a lot of progress has been made by the riders and the ponies move better."
Schipper referred Esmee Donkers to second and third place. Aboard Boticelli (by Brillant) she scored 71.920% and with her second ride Don Diego (by Morgenland's Fabian) she achieved a 70.260%/

The finals of the 2014 KNHS FEI Pony Cup will be held at the 2014 CDIO Rotterda on 21 June 2014. 
Photo © Astrid Appels
Results - 2014 KNHS FEI Pony Cup qualifier - Kootwijk
1. Zoë Schipper - Dolce Vita  - 73.120%
2. Esmee Donkers  - Boticelli  - 71.920%
3. Esmee Donkers - Don Diego  - 70.260%
more to come
Related Links
Zoutendijk Makes it Five in a Row at Fifth Leg of 2013-2014 KNHS FEI Cup in Uden
Zoutendijk Wins Fourth Leg of 2013-2014 KNHS FEI Pony Cup in Oud-Gastel
Zoutendijk Wins Third Leg of 2013-2014 KNHS FEI Pony Cup in Genemuiden
Zoutendijk Wins Second Leg of 2013-2014 KNHS FEI Pony Cup in Assen
Zoutendijk In Front at First Leg of 2013-2014 KNHS FEI Pony Cup