Oldenburg Breeding News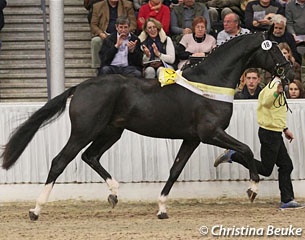 Paul Schockemohle's Danciano (by Dancier x Rotspon) has won the 2013 30-day Stallion Performance Testing in Schlieckau, which concluded on 20 December 2013.
The HLP test in Schlieckau started on 21 November and quite a few promising young stallions particpated in this testing in Schlieckau, which is a preferred venue by many stallion owners.
The 3-year old Hanoverian branded Danciano (by Dancier x Rotspon) was the high scorer out of 40 participating stallions with a total of 8.48, receiving 8.91 for dressage and 7.7 for show jumping. He got 8 for walk, 10 for trot and 9 for canter in training. During the end exam he got 7.5 for walk, 9 for trot and 8 for canter. He received a strong 9.75 for rideability.
The 2012 Oldenburg Licensing champion Follow Me (by Furstenball x Donnerschwee) was the second highest scoring colt overall and the highest scoring dressage stallion. He earned a whopping 9.29 for dressage and a 7.35 for show jumping, averaging 8.32. In training he earned a 10 for walk, an 8 for trot and a 9.5 for canter. During his end exam he got an additional 10 for walk and canter, 9 for trot, 6.5 for jumping and 9.25 for dressage.
Other young dressage colts scoring an end mark of 8.0 or higher were Coal Diamond (by Christ) with 8.15, the Dutch bred Fun Time (by Ampere) with an 8.08, Smirnoff (by Sir Donnerhall I) with 8.0
The fourth ranked premium stallion at the 2012 Oldenburg Licensing, Quateron (by Quaterback x Stedinger) got a score of  7.84, while the Dutch bred Grey Flanell (by Gribaldi x Clavecimbel), which was also licensed in Vechta in 2012, got 7.59.
Photo © Christina Beuke
Related Links
Form or Function at the 2012 Hanoverian Stallion Licensing
Furstenball Son, Champion of the 2012 Oldenburg Stallion Licensing
Scuderia Wins 2012 Schlieckau Winter Stallion Performance Test
Furstenball Reigns Supreme in Schlieckau 70-Day Performance Test
All Stallions Pass 2013 Danish Stallion 10-Day Observation Test