Danish Dressage News
Mikala Munter Gundersen and My Lady have a new weapon in their arsenal going into the 2014 season: an inventive freestyle composition, arranged by Gary Patterson, that draws on themes from Burlesque and Chicago to fit My Lady's presence and energy.
Gundersen and Janne Rumbough, the owner of My Lady, have worked for months to develop the perfect freestyle. Gundersen created the pattern in the spring in collaboration with her coach and her mother-in-law, but she found that the music wasn't quite the right fit for My Lady, a 13-year-old black Danish Warmblood mare.
"The music just didn't suit her," she explained. "Everyone said she was bigger than the music, so I had to find something that was really big so I wouldn't get that problem again!"
Gundersen and Rumbough got to know Patterson through Rumbough's daughter and worked with him to create something that would match My Lady's style and personality.
"We wanted something that would fill up the room and be fun at the same time," Rumbough said. "We are very excited that we got to know Gary. It has been a wonderful journey, and we worked very hard on the music."
Gundersen watched the movie Burlesque and loved the music, and Rumbough suggested the addition of themes from Chicago.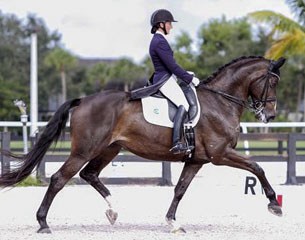 "We decided to go cabaret style for My Lady, who's such a powerful 'Madame,'" Gundersen said. "I wanted something recognizable and I wanted the judges and spectators to have fun. They sit there hour after hour. I thought, 'Let's try it. Let's go for it and make something a little bit wild and unusual.'"
The entrance in passage features vocals from "Show Me How You Burlesque" by Christina Aguilera, and the trot half-pass zigzags are set to vocals by Cher.
The pair gave the music a trial run Dec. 8 at the Wellington Classic Dressage Holiday Challenge, a national show at the Adequan Global Dressage Festival venue in Wellington, FL. They scored 83.750% in the Grand Prix Freestyle in their first run-through with the new music.
Gundersen left the ring smiling and noted that her horse seemed to enjoy the music.
"I could tell Lady loved it," she said. "I think it's going to be really good once I have it all a little more together. She's so amazing," she added. "I love her. We have so much fun."
Rumbough was thrilled with the music as well. "I thought it was fantastic - it was so flowing!" she said. "I love that it flowed so beautifully and everything was so even. It fits. She's a big black mare and she needed some big music."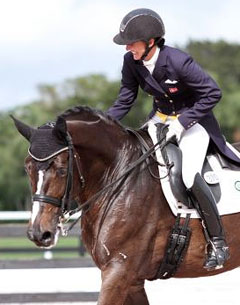 Gundersen plans to compete in the Reem Acra FEI World Cup Final qualifiers at the Adequan Global Dressage Festival this winter, beginning with the two qualifiers in January. She is training with Ernst Hoyos to prepare for the start of the season, and she has been working on My Lady's fitness and health: the mare has a daily exercise routine on a HorseGym treadmill and also uses a TheraPlate.
"Because I'm a foreign rider, my chances of making it to the Final are very small, but that doesn't matter," Gundersen, who hails from Denmark, said. "It's still fun to ride the qualifiers. Now that I have such a great freestyle, I'm going to play with that and have a fun season. I'll go back to Europe in the summer, do the Danish Championships, and take it from there."
Rumbough, also of Denmark, is an accomplished dressage competitor herself. She enjoys watching her mare shine in the show ring and appreciates her close friendship with Gundersen. 
"We have a wonderful relationship, and we think the same way," Rumbough said. "We take it a day at a time and have fun along the way."
Related Links
Gundersen Earns Another Danish Victory in Grand Prix Special at 2013 CDI Wellington
Mikala Gundersen and My Lady Prevail in Grand Prix Special at 2013 WDM Palm Beach
Danish Teams Selected for 2013 CDIO Aachen and CDIO Rotterdam
Scores: 2013 Danish Dressage Championships