2013 CDI Wellington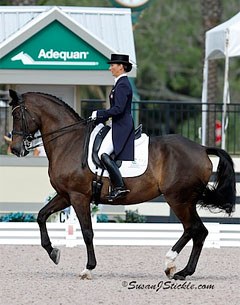 Following Lars Petersen's victory in Saturday evening's freestyle, Mikala Munter Gundersen collected another top prize in Denmark's honor with My Lady in the Grand Prix Special 5* at the 2013 CDI Wellington. The Grand Prix Special was the final 5* class of the Global Dressage Festival (AGDF) hosted at That Stadium at the Palm Beach International Equestrian Center.
The GDF will host its final show, the Wellington Nations Cup CDIO3*/CDI 3* on April 11-14, 2013.
Gundersen and My Lady were the lone pair to break 70% in the class, finishing with a score of 70.063%. My Lady, a thirteen-year-old Danish Warmblood mare, is owned by Janne Rumbough.
Diane Creech (CAN) and Devon L finished second with a final score of 67.917%. Evi Strasser (CAN) and Action Tyme were third with 65.813% and James Koford (USA) finished fourth aboard Rhett with a 63.229%.
Judges for the class were: Lilo Fore at E, Raphael Saleh at H, Axel Steiner at C, Peter Holler at M, and Stephen Clarke at B.
Gundersen, who is now based in Wellington, was admittedly emotional following the second 5* victory for Denmark for the weekend. "It was wonderful to hear the Danish national anthem again! It made me cry today. I'm really happy for Lars," Gundersen remarked.
Gundersen attributed her winning performance to My Lady's laser-like focus in the International Arena. "She was really with me in the ring today. She was 100% focused on me. Yes, we were both a little bit tired maybe, this morning, but we pulled it together when we got in there," Gundersen commented.
"I think we had some great pirouettes, some great ones and twos," Gundersen continued. "I had a little mistake in my second piaffe. I pushed a little too much, and she told me that was not correct. She's very good at correcting me when I make mistakes! So I try very hard to stay out of her way and do things as correct as I can."
Gundersen has ridden predominately stallions for many years, but has been pleasantly surprised with the relationship she has forged with the opinionated mare. "It's so different to ride a mare. It's so giving. If you have to come to an agreement, they're going to stick with you. I've had stallions for many years, as I said, and now I have three very good mares. They're all very different horses with very different personalities, but they all work for me in the ring. They all want to do their best. It's amazing, I love the mares," Gundersen expressed.
Like many competitors at the AGDF, Gundersen is happy to see her mount's rideability progress throughout the season in Florida. "She has developed a lot. She's a lot stronger. She's a lot fitter. She's much more supple. When I was at the [World Dressage] Masters [in January], she was still very strong for me. Now, she's as soft as butter to ride," Gundersen described.
Gundersen utilized the season in Florida to prepare My Lady for a trip overseas for the Danish Championships. The pair will compete in Europe for a few months before coming back to the United States for the Dressage at Devon Horse Show in September.
"We used this season to get to know each other and I've used this season as preparation to go to Europe this summer. I really wanted to make sure I got there and would be well prepared and know her in different atmospheres. I think we're ready to go now. As ready as we'll ever be," Gundersen laughed.
Gundersen felt the only preparation left for Europe was to fine-tune My Lady's skills. "She is so strong in everything now it's really about the suppleness, the conditioning, making transitions sharper. Now we're going into the little details, which is amazing. It's a very nice feeling. Lucky me!" Gundersen concluded.
Carlos Munoz and Klouseau Triumph in Intermediare Freestyle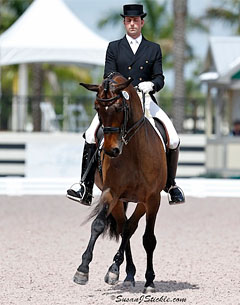 Carlos Munoz (ESP) and Klouseau had a perfect end to their weekend with a first place finish in the FEI Intermediare Freestyle, presented by Peacock Ridge.
Munoz and Klouseau, a twelve-year-old Trakehner gelding owned by Karen Blank, were the last pair to go in the class and scored an impressive 73.550% to leapfrog to the top of the rankings. Evi Strasser (CAN) and Rigaudon Tyme finished second with a score of 70.800%, Shelly Francis (USA) and Danilo took third with a 66.325% and Brittany Fraser (CAN) was fourth with All In and a score of 64.775%.
Munoz, based in Whitehouse Station, NJ, was elated to have done so well with Klouseau, who he only showed for the first time nine months ago. "I'm really happy. This is almost the last show of the season and I think we had great progress this season," Munoz grinned.
"I want to thank Karen [Blank], the owner of the horse, for this big experience with him, and [trainer] Cesar Parra for helping me every day. This show, Volker Moritz was also helping me every day and I want to thank him a lot," Munoz continued.
Munoz acknowledged that he has learned as much from Klouseau as the gelding has from him during this season. "I didn't have too much experience showing, so I think we're progressing this season. I think he had more experience than me, actually, so he's teaching me how to do it really well," he said.
Everything fell into place for the pair on Sunday, which Munoz felt was the perfect ending to the weekend. "The whole weekend, from the first day, I've felt the horse is ready. He's really doing exactly what I'm telling him to do. He's really relaxed. I'm really happy with how the weekend ended. We were fifth the first day in the St. Georges-it was good but it could have been better. The second day was a little bit better, I repaired the little mistakes from the day before, and then today I'm just really happy. It's the end of the three days and it's been really good. This horse is such a good guy. He's a superstar," Munoz described.
"I think [Kloseau] is the perfect mix between talent and character," Munoz continued. "He's quiet, but you put your leg on and he goes off well. I enjoy the extended trots and canters a lot, and I think he does too. When you loosen the reins a little bit, he just flies. He loves it."
Munoz and Klouseau's victory concluded competition for the Wellington 5* presented by Diamante Farms. The FEI Intermediare Freestyle was preceded by the Young Rider Freestyle. Tanya Strasser Shostak (CAN) and Deluxe Tyme took top honors for the class with a score of 62.375%.
Photos © Sue Stickle
Related Links
Scores 2013 CDI Wellington
Lars Petersen Outmaneuvers Steffen Peters in Grand Prix Freestyle at 2013 CDI Wellington
Peters and Legolas Also Number One on Florida, Wins Wellington CDI5* Grand Prix