2013 CDI Wellington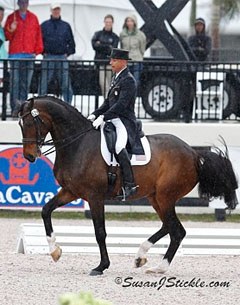 Steffen Peters (USA) and Legolas were victorious in the Grand Prix 5*, held Friday 5 April 2013 during the Wellington CDI 5*. The Wellington 5* is the first of the final two weeks of competition for the Global Dressage Festival, hosted at The Stadium of the Palm Beach International Equestrian Center (PBIEC) in Wellington, FL.
The California based Peters and Legolas finished first with a remarkable 75.085%. Second place went to Lars Petersen (DEN) and Mariett with a score of 73.787%. Ashley Holzer (CAN) and Breaking Dawn finished third with a score of 73.362% Peters, of San Diego, CA, and Legolas, owned by Akiko Yamazaki's Four Winds Farm, were also recognized with the Champion Equine Insurance Dressage Style Award.
Judges for the class were: Peter Holler at E, Raphael Saleh at H, Lilo Fore at C, Stephen Clarke at M, and Anne Gribbons at B.
Peters was thrilled with Legolas' performance as the eleven-year-old gelding appears to be coming into his own. "We haven't done too many clean tests and today was one of them. We got the one tempis. That's the second test in a row that he did his one tempis and that's exciting. I'm very happy," Peters commented. "The movements-piaffe, passage, pirouettes, flying changes-that's certainly gotten better. What was always missing to me, a little bit, was the overall relaxation and the suppleness. Legolas is getting so much more rideable and so much more fun to ride," Peters continued. 
Lars Petersen was also pleased with the greater quality of movement Mariett exhibited Friday afternoon. "I'm very happy, she is getting better. My issue was always the fluidness and she's really becoming way better in that," Petersen remarked.
Despite the dreary weather, Holzer was proud of her relatively inexperienced mount, Breaking Dawn, for rising to the occasion in the rainy weather. "He's not a very advanced Grand Prix Horse. He's not done this a ton. To feel him come into a different situation that was a tricky situation for him, and to have him behave and try hard, is always a good feeling," Holzer described.
"It's wonderful to win money and wonderful to give back [to the owners], but there is nothing better [as a rider] than feeling your horse in the ring happy to do his job. I think it's what we work for," Holzer continued.
While all three riders agreed whole-heartedly with Holzer's sentiment, the more than $100,000 in prize money that will be awarded at the CDI 5* is not to be discounted. The Grand Prix class handed out $12,000 in prize money and Saturday night's Freestyle 5* will award a whopping $84,000.
"I think it's wonderful for the owners to get a small return on their investment," Peters commented. "It's a substantial amount of money, no doubt, and it's wonderful that we can support our owners this way."
Francis and Danilo Shine in the St. Georges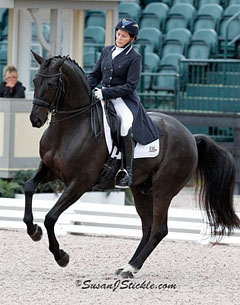 Peters wasn't the only American rider to win big on Friday. Shelly Francis (USA) and Danilo clinched another Prix St Georges victory on Friday afternoon with a score of 72.579% in the class. Francis and Danilo were the only pair to break 70% in the class of nearly twenty competitors.
Judges for the class were: Cesar Torrente at E, Stephen Clarke at H, Anne Gribbons at C, Lilo Fore at M, and Raphael Saleh at B.
Brittany Fraser (CAN) and All In secured a second place finish with a score of 69.500% Germany's Kevin Kohmann finished third aboard Zephyr with a final score of 68.158%.
Francis, of Loxahatchee, FL, was very pleased with her young horse's performance. "He was very lovely. He's really green. Sometimes he's hard to keep in a nice, steady rhythm at the trot because he offers lots of gears in the trot, but he was lovely today. He's so sweet, he just goes around like, 'Where do you want me to go next?'" Francis described.
Danilo, a nine-year-old Hanoverian gelding owned by Patricia Stempel, has already had a successful campaign in the Prix St. Georges this season. "He's done really well," Francis commented. "He's won almost every class he's been in so far. This is only his second CDI."
Francis described the striking black gelding as a well-rounded mount with a wide arsenal of talent. "His canter work absolutely [is his biggest strength]. Later on [in the test], his piaffe and passage were really super, as well as his extended trots. He's actually good all around. The hardest thing to keep good is his half pass, but he's learning to get better by the day," Francis remarked. 
The winner of the FEI Pony Team class was Melanie Doughty (USA) on Command Performance. In the Junior Team class, Lindsey Holleger (USA) on Friedensfurst took first place with a score of 66.946% over five other entries. The Young Rider Team class was Madison Lawson (CAN) on McGuire; they scored a 63.368%.
Evi Strasser and Renaissance Tyme Bring Home Blue in Thursday's Grand Prix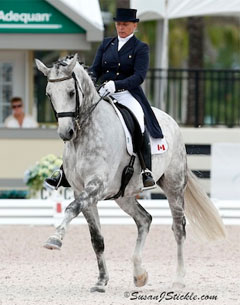 Canada's Evi Strasser finished first with Renaissance Tyme in the  Grand Prix during the first day of competition at the Wellington CDI 5*. Strasser and Renaissance Tyme earned top honors with a score of 62.660%. 
Second place went to Janne Rumbough (USA) and Junior with a score of 60.745%. Katharina Stumpf (AUT) and For My Love rounded out the top three with a final score of 59.702%.
National Classes in Wellington
Anne Cizadlo had plenty to celebrate during the AGDF National 5 Show, held at The Stadium April 2-3, 2013. Cizadlo won four classes with her two mounts Talent and Paddington.
Cizadlo and Talent were first place in First Level with a score of 72.097%, followed by a 71.714% the following day in Second Level for another blue ribbon. Cizadlo and Paddington won both of their Third Level tests, scoring 67.927% on Wednesday before breaking 70% on the second day of competition with a 70.976%.
Amy Bock and Walk the Line also took home multiple victories. The pair won Wednesday's Third Level test with a 69.615% and blew away the competition with an impressive 75% in their Fourth Level round on Thursday.
Photos © Sue Stickle
Related Links
Scores 2013 CDI Wellington