2013 CDI Wellington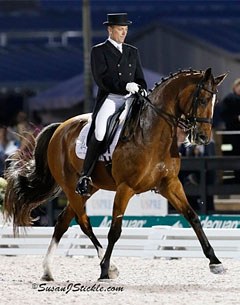 Lars Petersen (DEN) and Mariett emerged victorious from the Grand Prix Freestyle 5* on Saturday night 6 April 2013. The class was showcased under the lights of The Stadium at the Palm Beach International Equestrian Center (PBIEC) during the Global Dressage Festival (AGDF) Wellington 5*. Second place went to Steffen Peters and Legolas and Tina Konyot rode Calecto V to third place.
Judges for the class were: Lilo Fore at E, Axel Steiner at H, Stephen Clarke at C, Raphael Saleh at M, and Peter Holler at B.
A whopping $84,000 in prize money was awarded for the evening's class. The high-stakes competition attracted a substantial amount of very enthusiastic spectators.
Petersen and Mariett topped the class with an astounding score of 78.450%, a personal best for the pair. Steffen Peters (USA) and Legolas weren't far behind with a 78.100% that put them in second place. The top three was rounded out by Tina Konyot and Calecto V with a score of 77.050%.
Petersen was elated with Mariett's continued progress as she wrapped up a winning weekend. "I was very happy with Mariett tonight. The overall rideability of the mare is just getting better and better and that's why I'm getting all the difficult movements, so I'm very happy about all of that," Petersen described. "What I'm actually most happy about is through my tests there are a lot of transitions," Petersen continued. "We go half pass-passage-piaffe-extensions-half pass and for a trainer, you like when all those transitions are smooth. This is one of the best tests I've had on her."
Petersen was especially happy to have a 5* victory under his belt with the fifteen-year-old Danish Warmblood mare, who is owned by Marcia Pepper. "It means a lot because this is her first year in the Grand Prix. She has been getting better and better every show," he said.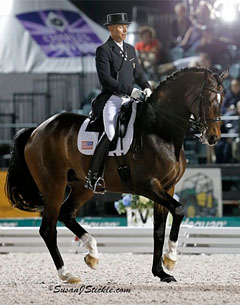 Steffen Peters described his second place finish with Legolas as their best freestyle yet despite some early missteps. "It took him just ten seconds to sink in. The first five seconds were a bit tricky and then he really settled down smoothly," Peters described. "The connection has never been better in a freestyle and that really tells me everything about him. When he's soft and loose, then I can ride him a bit more and this is exactly the feeling I wanted to take to Europe. Tehnically, it wasn't our best freestyle, but for suppleness and relaxation it certainly was our best freestyle," Peters continued.
While the atmosphere of The Stadium at night had Legolas a little on edge, Peters had nothing but praise for the venue. "It's not just the arena, it's everything. The warm-up is great. The horses get used to the atmosphere that's actually in the ring. The footing is phenomenal, the stalls are great. This is one of my favorite places in the world to show, there's no doubt. This is my first time here and you can count on me coming back," Peters remarked.
Third place finisher Konyot echoed Peters' sentiments. "The atmosphere is spectacular here. It's something we've all hoped for and wished for - to have an actual show facility that's like an international venue. It is a spectacular place for the spectators, for the riders, for the horses. The people that organize it, the people that support us and are behind it, give it a positive, wonderful feeling," Konyot commented.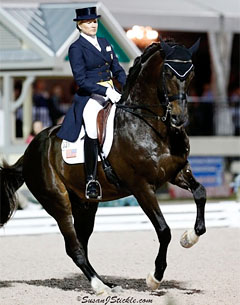 Konyot acknowledged Calecto V started to tire towards the end of their performance, but was overall very pleased with how he did. "I was very happy with my horse. He had very good feeling and very good power. At the beginning of my test, I felt very, very solid. At the ending, he was a little bit tired, but overall I had a very good feeling about my ride and my horse is always there for me," Konyot explained.
The evening's competition concluded with Heather Blitz (USA) and Paragon, the last pair to perform. Blitz and Paragon rode out technical difficulties with their music, which Blitz good-naturedly acknowledged did not make a difference in their ride. Blitz and Paragon went on to finish in fourth place with a score 75.100%.
Shelly Francis and Danilo Continue Win Streak in Intermediare I
Shelly Francis (USA) and Danilo had another successful day at the Wellington CDI 5* presented by Diamante Farm. The pair finished in first place in the FEI Intermediare-I, presented by Peacock Ridge, with a score of 71.368%. Francis and Danilo were the only pair to break 70% in another highly competitive class. Brittany Fraser (CAN) and All In had another second place finish with an overall score of 68.816%. Spain's Carlos Munoz and Klouseau finished just behind Fraser with a 68.316%.
Judges for the class were: Cesar Torrente at E, Raphael Saleh at H, Peter Holler at C, Bo Ahman at M, and Axel Steiner at B.
Francis, of Loxahatchee, FL, was thrilled to have another winning round with Danilo, a nine-year-old Hanoverian gelding owned by Patricia Stempel. "I was overall really happy with him. I felt like I had him a little bit steadier than yesterday, but I didn't have as much expression as I did yesterday. But it's better to have it a little more fluid, I think. Sometimes if they have so much expression and they lose the rhythm somewhere, it shows up more. He was really good. He's a sweet horse," Francis commented.
Although Danilo's show career only began in earnest in March, he's shown remarkable talent that Francis is eager to harness. Owner Stempel originally picked him out for her to show, but as Francis rode him more, his potential for greatness revealed itself.
"She's enjoying watching him compete very much. She likes watching him show and wants him to go to his full potential. She's a really good owner that way," Francis acknowledged. "It was a little unexpected for me that he turned out to be such a nice horse to show. I guess there would really be no reason why not. I just didn't know he had that little extra spark in there," Francis continued.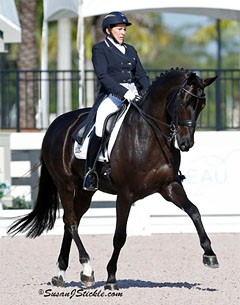 Danilo's ability to adapt to the showing environment is yet another of the gelding's winning qualities. "When he went in for the Prix St. Georges [on Friday], he had not been in the [International Arena] at all and he handled it beautifully. There are lots of things to look at and he'd look a little bit, but he didn't do anything crazy. He would wait for me to tell him where to go, which is a very good quality," Francis described.
"He's got really good potential for the Grand Prix and I'll believe he'll move up next year. If he's anything like he is now, which I'm sure he will, he'll be just as solid with it. Right away, he gives you that feeling," Francis continued. "He'll do really well. He does his ones, his piaffe, passage. He's nine years old, so next year when he'll be turning ten, he'll be ready. It's very exciting to have two Grand Prix horses."
The other Grand Prix mount Francis was referring to was Doktor, who made his Grand Prix debut this winter to much success. "It wasn't done deliberately to have this string, but it just stepped into place with these horses. All of a sudden they're so good to show and they're good international prospects, so I feel very lucky," Francis remarked.
Francis reveled in having such excellent horses at this point in her career. "I'll just go out gangbusters!" Francis laughed. "I'm not getting any younger so I'm going to keep going until I can't do it anymore!"
Small Tour Competitors Showcased in a Big Way on Saturday
Canadian and American riders dominated the rest of the classes hosted at The Stadium at PBIEC on Saturday afternoon. Canada's Evi Strasser collected the first place prize aboard Renaissance Tyme with a score of 65.521% in the FEI Grand Prix Special first thing Friday morning.
Junior and Young Rider classes were also well contested, with the FEI Junior Individual class seeing six entries. Lindsay Holleger (USA) and Friedensfurst earned a score of 66.579% to propel them into first place.
The top prize for the FEI Young Rider Individual was awarded to Madison Lawson (CAN) and McGuire with a score of 63.184%.
Melanie Doughty (USA) and Command Performance took home the blue ribbon in the FEI Pony Individual class. The pair scored a 55.634%.
Katharina Stumpf was victorious in Friday's Grand Prix Freestyle on Friday afternoon. She scored a 61.875% aboard For My Love.
Related Links
Scores 2013 CDI Wellington
Peters and Legolas Also Number One on Florida, Wins Wellington CDI5* Grand Prix