Trakehner Breeding News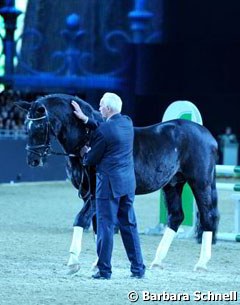 The 28-year old renowned Trakehner breeding stallion Kostolany passed away on Monday 28 October 2013. The black stallion was euthanized today as he suffered from old age.
Kostolany was bred by the Langels Family at Gestüt Hämelschenburg and was sired by Enrico Caruso out of Kapstadt (by Falke x Ibikus). His entire life he spent at the same home and was a true member of the family.
His breeding career started in 1987 when he was proclaimed champion of the Trakehner Stallion Licensing. Kostolany stood out with his willingness to work and perform and his strong conformation. He was trained up to Grand Prix level but never competed at high profile competitions. He featured often in shows and became famous for his Phantom of the Opera demonstration with trainer Otto Langels.
As a breeding stallion Kostolany passed on great versatility and sired both dressage and show jumping horses that were trained up to S level. His most famous offspring is Gribaldi, who became the 1995 Trakehner Licensing Champion and who competed at international Grand Prix level under Edward Gal. Gribaldi, however, was a bit more temperamental and sometimes refused to piaffe in the show ring.
Kostolany sired nine licensed offspring, including Silvermoon (sire of Blue Hors Matine), Elfado
In 2009 Kostolany was proclaimed Trakehner Stallion of the Year.
Photo © Barbara Schnell
Related Links
Kostolany, Trakehner Stallion of the Year 2009
Gribaldi Passed Away
Enrico Caruso Passed Away in Barn Fire
2013 Trakehner Spring Stallion Licensing and Stallion Show