KWPN Breeding News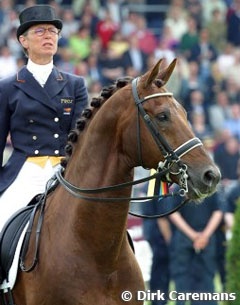 The Dutch warmblood stallion Jazz has stamped KWPN dressage breeding for the past fifteen years. While Donnerhall and De Niro, Weltmeyer, and Rubinstein have shaped the dressage scene in Germany, the Dutch breeders certainly added some pezzazz to the dressage world by using Jazz (by Cocktail x Ulster x Amor).
Born on 21 May 1991 at Huub and Tiny van Helvoirt's yard in the Netherlands, the infamous Jazz was originally named Jacob. After his licensing he completed his performance test in 1994 and has since become one of dressage's greatest breeding stallions, producing numerous top-of-the-world Grand Prix talents such as Parzival, Orion, Wyntyn, and O'Neil just to name a few.
Described in his approval as honest, reliable, temperamental, Jazz is known as a horse that likes to look at everything yet those who have shared an intimate relationship with a Jazz foal believe that his sensitivity is also his greatest strength. "I love horses by Jazz!" exclaimed Olympic silver medalist Adelinde Cornelissen. "I know they are sharp and can really be quick but in the end that is also their strength!"
Competing in London on the now very well-known Parzival, Adelinde agrees her horse is very sensitive and while he is not so much a horse to spook at shadows, he is spooky towards things on the arena sides or sounds. "It takes time to build up enough trust and confidence to overcome the spookiness," said Adelinde. "I took Parzival to loads of different arenas, decorated his own arena, and then took all the time needed to build up trust and show him that all was ok. It takes time but I love the challenge!"
Having ridden a lot of Jazz offspring, Adelinde feels that none of them were in the least bit crazy, they just need to be understood. "They are sensitive, quick and intelligent but always willing to learn. Just do not insult them. At the moment I am riding another Jazz offspring, Zephyr, at small tour level and he is very easy to ride with a top character," said Cornelissen.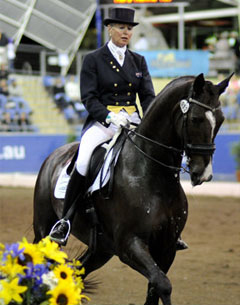 Australian Olympian Mary Hanna has had four Jazz horses in her stable and agrees that while they are quirky horses to work with, they all have a lot of talent for the Grand Prix work. "I have Tango, who I bought as a foal and trained to Grand Prix, Umbro who I bought as a 7 year-old and took through to Grand Prix, Brioni who I bought as a foal and gave to my daughter and who now goes Medium, and Hamag Whoopie who I recently acquired and hope to make into a Grand Prix horse by next year," Mary listed. "Of all these Umbro has been the most straight forward to work with and while all have the talent for the difficult work, they have all been challenging in different ways. They are not horses for an amateur rider, but very talented if you are up to the job."
Hanna explained that the Jazz babies she trained need time to trust and believe in their rider enough to have confidence in the work. "Tango is a very willing worker. He loves to be ridden. He is, however, very noise sensitive. Loud noises can really upset him. He is not visually afraid of his surroundings. It is only noise that upsets him. I think in the wild herd his job would have been to protect and alert if he heard an unusual noise. Umbro has no problem with loud noise and is instead very visual. Umbrellas or unusual movement will immediately catch his attention. He can be spooky outdoors but feels very secure inside. He also loves to be ridden and enjoys learning new things. Brioni is not such a willing worker but very talented. He has super movement but has been very challenging to train. He is more behaviorally difficult but I know he will get there. Whoopie came with a bad reputation but I seem to have formed a very good partnership with her. She will try her heart out for me. She is a little sensitive both visually and with certain types of noises, but this depends very much on the rider to reassure her."
Mary believes they need to be sensitively ridden to develop a great deal of trust in the rider and once they do this, they will always do their very best. "They will not tolerate rough or insensitive treatment but need to build a confidence and this can take time," said Hanna. "I think they all have strong herd protective instincts, so from there comes the looking (shying) or hearing (very noise sensitive) these are not horses that will be bullied but can be so rewarding when you make that partnership. It's not surprising for me that Jazz is right up on the breeding index."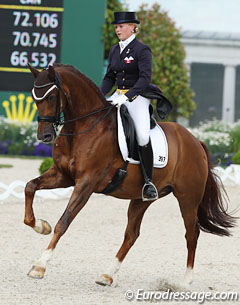 A huge fan of Jazz and his breeding talent, Canadian Pia Fortmuller knows that Jazz horses need patience but the number one thing she can tell you about her Grand Prix horse Orion (by Jazz) is that she loves him. "He has the heart of gold and the work ethic of a lion," said Fortmuller. "Although he is a very typical Jazz in that he gets very easily tense and spooky, but as long as he keeps his focus and trust on me then we are ok."
According to Pia the best way to deal with the Jazz sensitivity is by taking the horses into the show ring and showing him around before the competition so that he feels comfortable in his surroundings. "Orion was very difficult as a young horse, but there have been so many important people in his life that taught him to trust his rider and as a result he has become my absolute number one horse in history! Orion is 17 this year and some days when he is bucking up a storm in the paddock you'd think he was still a four year-old."
It's this fire and spark that keeps Orion fit and fighting for her in the competition ring and that is exactly what she loves the most about him.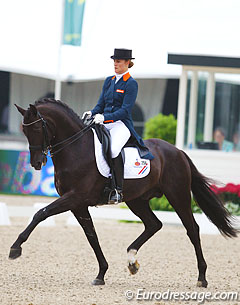 Dutch rider Madeleine Witte-vrees believes her Jazz man Wynton (by Jazz x Matador) is a really sweet and talented but quick horse. "He always wants to work and I think he is not so spooky. I believe a lot of Jazz offspring have a big eye and when you can learn to work with and handle the horse, it could be a top horse. However, when they are looking too much it will never be a top horse you can rely on. I myself really like Jazz blood."
Her second top Grand Prix horse Vontango (by Jazz x Contango) unfortunately died last year but he also had a lot of talent. Witte-Vrees particularly likes quick but cool horses. "For the recreational riders, however, don't use Jazz blood," Madeleine advised.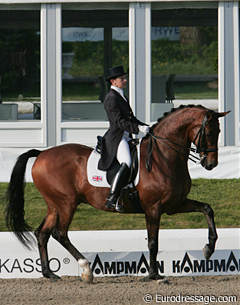 Britain's Sarah Millis has ridden quite a few Jazz produce over the years but her main Jazz horse was Korenbloem O'Neill, which she competed to Grand Prix level. Now retired to be a schoolmaster at home, O'Neill was a horse with a friendly temperament and a sharp awareness. "He was quick to learn and willing to please but he often saw or sensed a lot of 'ghosts' and also seemed scared of open spaces. After much perseverance we eventually had some good results at Grand Prix, once I was able to manage his issues."
Seeking advice to ensure that there was no physical reasons for his behavior, Sarah says that little was found that could have explained his unease and she did question his eye sight at one point. "Yes, we did question his eye sight but again no real evidence of anything out of the ordinary was discovered," Millis explained.
Putting the temperament issues aside, Sarah felt that her horse had the amazing ability to self carry and collect and is also laterally supple, giving his rider an amazing feeling and maneuverability when he is working through and focused. "He was always happy to work and the temperament issues had nothing to do with not wanting to work. Once this was realized it was a case of giving confidence and where possible avoiding conflict. When he was truly through in his body then we found that the focus greatly improved towards his work and not the imaginary ghosts that were distracting him," she said.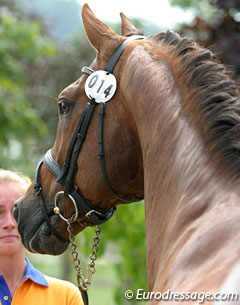 So perhaps it follows the old adage that with great talent comes great responsibility. Or is it that a horse's sensitivity in the saddle runs parallel with the sensitivity of his mind? Some have questioned that perhaps Jazz stallions have a sight problem and are thus spooking at the things they cannot properly make out.
However, not one of the above riders believed their horses to have a problem with their eyes whilst Dutch Olympian, Tineke Bartels, argues to the contrary. "I think they actually saw too well. They saw everything," said Tineke, who brought Jazz to greatness in the international Grand Prix ring.  "However, when you have patience with a Jazz, which sometimes may take longer than normal, you will love them forever!"
by Sarah Warne for Eurodressage
Photos © Dirk Caremans - Franz Venhaus - Astrid Appels
Related Links
Eurodressage Photo Database: Jazz (under Tineke Bartels) - Jazz (under Kirsten Beckers)
Two Jazz Clones Born in the U.S.A.
Jazz and Don Schufro Lead 2012 German Breeding Value Index
Jazz Tops WBFSH Dressage Sire Ranking for 2009
Jazz Sold to Broere Stud
Jazz, KWPN Horse of the Year 2006
Broere Jazz Proclaimed Keur Stallion