2013 Pavo Cup Finals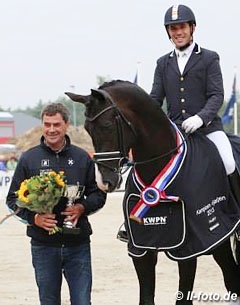 The 4-year old Everdale and the 5-year old Dancer became the grand champions of the 2013 Pavo Cup Finals, which were held during the KWPN Horse Days in Ermelo, The Netherlands, on 15 August 2013.
In the 4-year old division, Severo Jurado Lopez and Everdale (by Lord Leatherdale x Negro) went into the first round of the finals, tying in first place with Marieke van der Putten on El Capone (by UB40 x OO Seven). Everdale, however, distanced himself by scoring 94 points in the first final round, followed by scoring a 10 under guest judge rider Anna Sophie Fiebelkorn in the second leg. He totalled a total of 383.5 points to become the champion. 
El Capone became the runner up with 90 points in the morning and a 9 from Fiebelkorn in the afternoon, to total 358.50 points.  Only three horses are tested by a guest judge rider this year and Petri Bax' Esteban (by Florencio x Jazz) became third with 93 points and an 8.5 from fiebelkorn to finish on 351 points.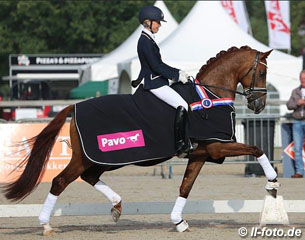 In the 5-year old division it wasn't title hopeful Desperado (by Vivaldi x Havidoff) who surfaced at the top, but the Oldenburg licensed chestnut Dancer (by Vivaldi x Tango).  Both stallions scored 95 points in the first round in the morning, but under Anna Sophie Fiebelkorn the chestnut stood out, especially with his active trot, and scored a 10 from the guest judge rider, whereas Desperado got a 9.  Dancer was presented by Kirsten Brouwer and is owned by Ad Valk, Emmelie Scholtens and Jeroen Witte. He scored a total of 387.5 points, while Desperado finished on 369.5 points.  Scholtens' Dorado (by Krack x Rousseau) was third with 94 in the first morning round and 8.5 from the guest judge rider.
Gerdine Maree and her black stallion Dream Boy (by Vivaldi x Ferro) just missed a podium place and finished fourth with 90 points in the semi finals and in the morning final round. The best scoring mare was Judith Ribbels' Dolcevendy O (by Lord Leatherdale x Jazz) with 82.5 and 89 points.
Photos © LL-foto - See Photo Gallery at the bottom of the page
Results - 2013 Pavo Cup Finals
4-year olds
Rider - Horse - Semi Finals - Finals Round 1 - Total - Guest Judge Rider - Overall
1. Severo Jurado Lopez - Everdale - 88.5 - 94 - 182.5 - 200 --- 382.5
2. Marieke van der Putten - El Capone - 88.5 - 90 - 178.5 - 180 --- 358,5
3. Petri Bax - Estenban - 88 - 93 - 181 - 170 --- 351
4. Diederik van Silfhout - Expression - 82 - 92 - 174
5. Vai Bruntink - Ebony - 87 - 87 - 174
6. Justine Mudde - Excalibur - 85.5 - 88 - 173.5
7. Cora Verlouw - Eye Catcher - 83 - 89 - 172
8. Bart Veeze - Eos Utopia - 85.5 - 85 - 170.5
8. Emmelie Scholtens - Elton John - 84.5 - 86 - 170.5
10. Chantal Nijpjes - Estee Lauder - 81 - 89 - 170
10. Jose van Haaren - Evander - 83 - 87 - 170
10. Dinja van Liere - Etoile - 83 - 87 - 170
13. Barbara van Groeningen - Eskara de Jeu - 85 - 84 - 169
14. Emmelie Scholtens - Estoril - 82.5 - 85 - 166
15. Emmelie Scholtens - England Slottie - 83 - 83 - 166
16. Katia Smets - Happy Feet - 81.5 - 82 - 163.5
16. Kyra Klinkers - Equirelle W - 83.5 - 80 - 163.5
18. Stefanie Wolf - Elton John - 81 - 82 - 163
19. Maria Brouwer - Esperance - 81.5 - 81 - 162.5
20. Jose van Haaren - 80 - 81 - 161
20. Janine Hooge - El Corona - 80 - 81 - 161
5-year olds
1. Kirsten Brouwer - Dancer - 92.5 - 95 - 187.5 - 200 --- 387.5
2. Emmelie Scholtens - Desperado - 94.5 - 95 - 189.5 - 180 ---- 369.5
3. Emmelie Scholtens - Dorado - 93.5 - 94 - 187.5 - 170 --- 357.5
4. Gerdine Maree - Dream Boy - 90 - 90 - 180
5. Judith Ribbels - Dolcevendy - 82.5 - 89 - 171.5
6. Lotte Jansen - Dark President - 83.5 - 87 - 170.5
7. Diederik van Silfhout - Don Tango B - 86 - 83 - 169
8. Marije Tromp - Denzel B - 83.5 - 82 - 165.5
8. Patrick van der Meer - Don Diego - 81.5 - 84 - 165.5
10. Tom Franckx - Dolcherie - 81 - 74 - 165
10. Danielle van Mierlo - Dayano - 84 - 81 - 165
12. John Tijssen - Dundee M - 79 - 82 - 161
12. Severo Jurado Lopez - Diego - 81 - 80 - 161
14. Mandy Dokter - Djack Johnson - 78.5 - 82 - 160.5
14. Adelinde Cornelissen - Detroit - 84.5 - 76 - 160.5
16. Daniel Bachman Andersen - Didando - 79 - 81 - 160
16. Yessin Rahmouni - Dondersteen - 80 - 80 - 160
18. Jessica Nijpjes - Diesel - 81 - 78 - 159
19. Cindy van Vugt - Double Trouble Two - 80.5 - 78 - 158.5
19. Robin Beekinj - Daimond - 78.5  - 80 - 158.5
Related Links
Desperado in Charge of 2013 Pavo Cup Semi Finals
Everdale and El Capone Share the Lead in the 2013 Pavo Cup Semi-Finals
Previous Winners of the Pavo Cup
Desperado and Charmeur Win 2012 Pavo Cup Finals
Charmeur and Borencio Win 2011 Pavo Cup Finals
Borencio and Amazing Star Go All the Way and Take 2010 Pavo Cup Finals
TC Athene and Zhivago Win 2009 Pavo Cup Finals
Zuidenwind and Wynton Win 2008 Pavo Cup Finals
Westpoint and Vivaldi Win 2007 Pavo Cup Finals
Santano and Ucelli T Win 2006 Pavo Cup Finals
Uptown and Dreamcatcher Win 2005 Pavo Cup Finals
Florencio and Sandreo Win the 2004 Pavo Cup Finals
Special D and Robin Hood, 2003 Pavo Cup Winners
Rubels and Paster, 2001 Pavo Cup Champions
Natcho and Osmium Wins 2000 Pavo Cup Finals
Broere Stallions Dominate 1999 Pavo Cup Finals
Lucky Times and Mariena Win 1998 Pavo Cup Finals