2013 Preis der Besten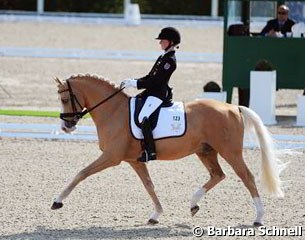 Pony rider Semmieke Rothenberger, junior Johanne Pauline von Danwitz and young rider Vivien Niemann took the title at the 2013 Preis der Besten in Warendorf, Germany, on 10 - 12 May 2013. The Preis der Besten is the inofficial German Youth Riders Championships and a major qualifier for team selection for the European Pony, Junior and Young Riders Championships.
In the pony division, the 13-year old Semmieke Rothenberger dominated the field; not on 2012 European Pony Champion Golden Girl, but on her brother's former FEI pony Deinhard B (by Dornik B). The silver went to Sophie Kampmann on Voyager and the bronze went to new comer and German shooting pony star Francesca Heil on Dein Freund (by Dornik B).
German pony team trainer Connie Endres commented that "Semmie has accomplished that with routine and sovereignty." About the Preis der Besten the coach said, "that was a good beginning of the outdoor season. All placed combinations scored over 70%. Of course there is still room for improvement in regards to the European Championships in Arezzo. It was a pity that this event co-incided with the Hamburg pony derby."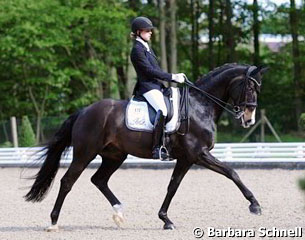 Brand new junior Johanne Pauline von Danwitz continues to blaze a trail aboard Louise Luttgen's Hanoverian gelding Habitus (by Hohenstein). She won the title in her age category and referred Jessica Krieg on Florence (by Florestan) to a second place and Claire Louise Averkorn on Condio B to a third.
German Junior and Young Riders' team trainer Hans-Heinrich Meyer zu Strohen said about the winners," they are a very happy comnbination. Johanne Pauline trains with the owner, who knows Habitus inside out. In addition to that, our Preis der Besten winner is a rider with much feeling and quick reactions." Meyer zu Strohen noted that a few juniors were quite nervous on the first day but "we still have time until the Europeans in France to assemble a fitting team."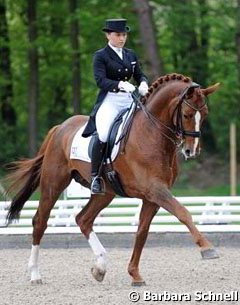 Routinier Vivien Niemann struck in her division and grabbed the gold on her long-time equine partner Cipollini (by Continue). Charlott-Maria Schurmann saddled a brand new horse, Edward (by Embassy I) and immediately rode him to a first championship silver medal. She has only been riding the Hanoverian state stud stallion for eight weeks. The 19-year old Juliette Piotrowski won bronze on her 8-year old Sir Diamond (by Sandro Hit).
Meyer zu Strohen was very happy with the performances of Niemann. "Vivien rode more focused on the second day. Her strengths are her good feeling as a rider as well as technique and stress-resistance." The coach was also pleased with new comer Edward which he described as a "very rideable and steady horse. Now he still needs to get into better shape."
Hans Heinrich added that the "young riders performed even better than the juniors this year. There are a few very new strong pairs and the experienced combinations confirmed their performances. It's a good starting position for the Europeans."
Photos © Barbara Schnell
Related Links
Scores 2013 Preis der Besten
Pony Riders Selected for 2013 Preis der Besten Qualifiers
Rothenberger, von Danwitz, Piotrowski Win 2013 Kronberg Preis der Besten Qualifier
Riders Selected for 2013 Kronberg Preis der Besten Qualifier