2013 Bundeschampionate Qualifier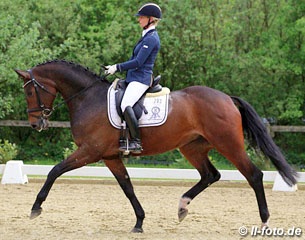 The 5-year old Frida Gold and Sir Heinrich OLD and the 6-year old Damon's Delorange won the Bundeschampionate qualifier held in Lienen, Germany, on 10 - 12 May 2013. Despite a huge field of competitors only three 5-year olds obtained the necessary scores to qualify for Warendorf. In the 6-year old division six scored 8.0 or higher to make it to the Bundeschampionate.
The 5-year old division was split into two groups, one had 8 horses, the other 28. Both BuCha qualifiers were judged by Lieselotte Ebrecht, Peter Engel and Harry Lorenz.
Group 1 winner was Eva Möller on the Oldenburg mare Frida Gold (by Fidertanz x De Niro). She achieved the high score of the day: 8.7 to win the L-level test ahead of Danish Katrine Kraglund aboard the Oldenburg stallion Swing King (by Sandro Hit x Don Gregory). This duo earned 8.0 and qualified for Warendorf.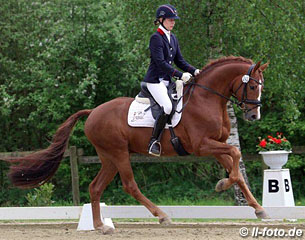 In the second group of 5-year olds Anja Wilimzig and the chestnut Oldenburg stallion Sir Heinrich (by Sir Donnerhall I x Furst Heinrich) got 8.2 from the judges and topped the leader board. Sabine Egbers and the Westfalian gelding Roger Moore (by Rock Forever x Pilot) were second with 7.8
The winner of the 6-year old division was last year's 5-year old Bundeschampion Damon's Delorange (by Damon Hill x Rubin Royal). Under Helen Langehanenberg the liver chestnut mare scored a whopping 9.3; the first 9 score achieved by a youngster this qualification season. Jan Dirk Giesselmann's and his home bred Westfalian mare Haya (by Hotline x D'Accord) finished second with 8.5. Eva Moller and the Russian owned World Champion Sa Coeur (by Sir Donnerhall I x Don Davidoff)  completed the top three with an 8.4.
Photos © LL-foto.de
Results - 2013 Bundeschampionate Qualifier - Lienen
5-year olds - Group 1
1. Eva Möller  - Frida Gold (by Fidertanz x De Niro) -  8.70    
2. Katrine Kraglund  - Swing King (by Sandro hit x Don Gregory) - 8.00    
3. Jil-Marielle Becks  - Damon's Satelite (by Damon Hill x Rubin Royal) - 7.70    
3. Claudia Rüscher - Steppo (by Spielgberg x Hohenstein) - 7.70    
5. Svenja Irina Meyer  - Bella Colorata M (by Belissimo x Walt Disney) -  7.50    
6. Claudia Feldmann - Sacharow (by Swarovski x Donnerhall) - 7.40    
6. Ariane Dierkes - Fidelia (by Fidertanz x Alabaster) -  7.40    
6. Gerhard Stute  - Delmagio (by Dancing Dynamite x Concepcion xx) - 7.40
5-year olds - Group 2
1. Anja Wilimzig  - Sir Heinrich OLD -  8.20    
2. Sabine Egbers  - Roger Moore (by Rock Forever x Pilot) - 7.80    
3. Eva Möller  - Follow Rivers (by Fidertanz x De Niro) - 7.70    
4. Lara Heggelmann  -  Geraldine (by Fürst Grandios x Tolstoi ) - 7.60    
4. Erik Bültjer  -  Sir Kinley (by Sir Donnerhall I x K2) - 7.60    
6. Ann-Kristin Dornbracht- Soiree de Saumur (by San Amour x Latimer) - 7.40    
6. Ann-Kathrin Wilting  -  Sydney HR (by San Remo x Levados ) - 7.40    
9. Claudia Rüscher  - Banderas (by Le Rouge x Friedensfuerst) - 7.30    
9. Christina Hammann  -  High Point (by Hotline x Donnerhall ) - 7.30    
9. Lilian Schilling  -  Diba (by Damon Hill x Dream of Heidelberg I) - 7.30    
9. Andrea Ulmker  - Davidoff (by Diamond Hit x Matcho AA) - 7.30    
13. Petra Wilhelmer  - Deliano W (by Dream On x Wolkentanz II) - 7.10    
13. Ann-Christin Wienkamp  - Sir Ricco  (by Sir Donnerhall I x Riccione ) - 7.10    
15. Sabine Egbers  -  Sky (by Scolari x Worldly) - 7.00    
15. David Leßnig  -  Rock me Amadeus (by Rock Forever x Lenardo) - 7.00    
15. Sonja Grunden  -  Scarlett O'Hara (by Sandro Hit x Donnerschlag) - 7.00    
15. Thomas Schulze  - Quintus RK (by Quaterback) - 7.00    
19. Eva Wullkotte  - Scoletta (by Scolari x Noble Roi xx) - 6.90    
20. Ann-Christin Wienkamp  - Spirit of Westfalia (by Sandro Hit x Donnerhall ) - 6.80    
20. Hermann Gerdes  - Hotline O  (by Hofrat x De Niro) -  6.80    
20. Leonie Richter  - Finest Feeling M (by Fidertanz x Rubin Royal) - 6.80    
23. Thomas Schulze  -  Rosio (by Rosario x Sandro Hit) - 6.70    
23. Gerhard Stute  - Franca (by Fürst Piccolo x Montmartre) - 6.70    
25. Svenja Bachmann  - Quintessenz (by Quaterback x Paradiesvogel) - 6.50    
26. Hermann Burger  - Flexio (by Fürst Romancier x Donnerhall) - 6.40    
Vera Müller  -  Eragon (by Estobar x Gralserbe) - RET              
Hermann Gerdes  - Sir Donnerhalls Son (by Sir Donnerhall x Diamond Hit) - RET
6-year olds
1. Helen Langehanenberg - Damon's Delorange (by Damon Hill x Rubin-Royal) - 9.30    
2. Jan-Dirk Gießelmann  - Haya (by Hotline x D'accord) -   8.50    
3. Eva Möller  - Sa Coeur  (by Sir Donnerhall I  Don Davidoff) -   8.40  
4. Svenja Irina Meyer  -   Ronika W (by Roadster x Castro) -   8.10    
5. Michael Klimke  - Djamba Djokiba (by Damon Hill x Wessex) -   8.00    
5. David Taylor  - Una Bailarina (by Stedinger x Donnerhall) -   8.00    
7. Claudia Rüscher - Dynastie (by Damon Hill x Florestan I) -   7.70    
8. Marcus Busch  -  Fantastique (by Fidertanz xDream of Heidelberg) -   7.60    
8. Insa Hansen  - Horares (by Hotline x Donnerhall) - 7.60    
10. Alix van den Berghe  -  Florimax (by Florencio I x Donnerhall) -   7.50    
10. Victor Alfonso Pomares  -  Sarotti (by Sir Donnerhall I x Cagliostro xx) -   7.50    
10. Charlotte Elizabeth Hay  - Sunrise (by Sir Donnerhall I x Rohdiamant) -  7.50    
13. Gerhard Stute  - First Time (by Fürst Piccolo x Montmartre) -   7.40    
13. Anna Dölger  - Robin  (by Rock Forever x Lancer III ) -   7.40    
13. Heike Ingebrand  - Rybot (by Rittmeister x Münchhausen) -   7.40    
13. Juan Manuel Vidal-Testal  - Sandro Star (by Sandro Hit x Wonderful) -   7.40    
17. Johanna Löer  - Findibus W (by Fürst Piccolo x Ehrentusch) -   7.30    
17. Catrin Kramer - Ruby Star (by Rock Forever x Fürst Piccolo) -  7.30    
19. Daniel Booker  - Hot Dance (by Hotline xDon Frederico) -   7.10    
20. Lars Schulze Sutthoff   - Lifestyle (by Laudabilis x Davignon I) -   6.90    
Hermann Gerdes  - Halifax (by Hotline x Sunny-Boy) - RET
Related Link
Eurodressage Coverage of the 2013 Bundeschampionate