KWPN Breeding News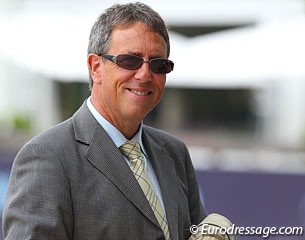 On the first dressage day at the pre-selection for the 2013 KWPN Stallion Licensing, twenty-eight colts were accepted to move on to the second phase in 's Hertogenbosch in February 2013.
The KWPN society wrote that especially the offspring of Jazz and Gribaldi stood out on the first dressage day. They have five and four sons accepted for the second round.
"Especially in the first half of the morning we saw a couple of expressive stallions with good conformation, technique in the legs and body usage. We also took the mare lines of a few stallions into consideration," said Wim Ernes, president of the KWPN Stallion Licensing Committee.
Ernes was assisted by Marian Dorresteijn and Reijer van Woudenbergh to assess the colts.
One of the most striking colts of the day was Blue Hors stud's First Choice (by Jazz x Negro), bred by Chr. De Fyter Seydlitz. This colt had much expression, movement and ability to collect and extend. The powerfully moving Francesco (by Florencio x Krack C), bred by J. Boele, stood out with his powerful hind leg and ease to do flying changes. The Danish bred and Blue Hors stud owned Megs Invictus (by Zack x Romanov x Don Schufro) excelled with his suppleness and ground cover.
"We are very happy about today and saw a few good stallions in the ring. The offspring of Gribaldi stood out and Negro's sons showed much power and ability to collect and extend. These are essential traits for the more advanced movements later on," Ernes commented.
The Gribaldi colt Fleetwood Mac CL (out of a Havidoff dam) stood out with his beauty and self carriage in trot.
Photo © Astrid Appels
Related Links
Vivaldi Best Represented Sire at 2013 KWPN Stallion Licensing Pre-Selection Days
Etoine, Champion of the 2012 KWPN Stallion Licensing
Enzo Ferrari Tops Small Crop at 2012 KWPN Autumn Stallion Performance Testing
Diebrecht, Champion of the 2011 KWPN Stallion Licensing