Trakehner Breeding News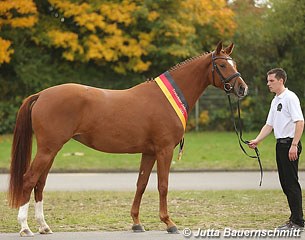 The 2012 Trakehner Stallion Licensing in Neumunster had an action-packed program with the Trakehner Mare Championhip and the brand new Trakehner Dressage Championship as additional featured to the draw the crowds, riders and trainers to the Holstenhalle in Neumunster. Herzrouge was named Mare Champion while Helen Langehanenberg and Cote d'Azur won the dressage championship.
Herzrouge is reigning Trakehner Mare Champion 2012

She is a great opportunity for the future, Herzrouge, the new Trakehner mare champion of the 50th anniversary Trakehner stallion market in Neumünster. The radiant chestnut mare by Renate Weber's FEI stallion Le Rouge, former Champion stallion himself, was already top of her mare inspection in Rhineland-Palatinate, earlier this year. Herzrouge, a spitting image of her sire, is a wonderful, athletic mare, with a correct foundation, showing high quality gaits, always uphill, well balanced, carrying herself. Her maternal relatives are representing one of the most valuable dam lines, the Herzchen family of Veronika von Schöning. This line also stands for Elite stallion Herzruf, the sire of this year's Champion stallion. Herzrouge's breeder, Daniela Gierhard sold the mare at last year's auction as a 2 year old to new owner Myriam Diemer. Out of a strong group of 10 mares - all Champion and Reserve Champions of their inspections - Herzrouge was on top of a crop of exceptionally athletic young Trakehner mares.
The Reserve Champion was Inschi's Songline, this year's Champion from the Rhineland. She is a very well framed daughter of Songline, who like Le Rouge, is also a former Champion stallion. This mare inspired the crowds with great mechanics in her movement, especially in her trot. Inschi's Songline is representing the well-known Italia family. She was bred by Frank and Esther Scharfetter and is now located at the Stöckerhof stud of Dagobert Vester.
The 2nd reserve champion was premium mare Amaraska by Oliver Twist x Lauries Crusador xx, and Dr. Werner Schade, Hannoverian breed manager and one of the three judges pointed out that she was a typical granddaughter of Lauries Crusador xx, moving very light-footed with lots of rhythm. Amaraska is bred by Peter Oellrich, great horseman and former stud manager of Webelsgrund stud. Amaraska is a halfsister to the approved Amadelio, who placed at this year's Bundeschampionat with Dorothee Schneider. The judges, beside Dr. Schade also Mrs. Monica Lindstedt (Stjärnbro Gard stud/Sweden) and Matthias Werner (Trakehner Mare Registration Commission) ranked the powerful and big-framed chestnut Kaskada 4th. Kaskada is by Elfado, a rising dressage prospect by Kostolany - Roncalli xx.
Unfortunately there was no Anglo Trakehner mare in this year's competition indicating the problem to infuse high quality thoroughbred blood in the breed. This is also reflected by only one Anglo Trakehner colt selected for stallion approval this year.
Amazing Cote d'Azur Shines in the 2012 Trakehner Dressage Championship!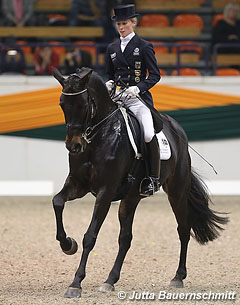 The new Trakehner Dressage Championship format was invented by the late German National Coach Holger Schmezer, who initiated this series of Prix St Georges tests throughout the year with a final during the Stallion Approval in Neumünster. The class aims at young FEI prospects, horses between 7-9 years of age. The finals were hosted for the first time at the stallion market and it is a wonderful possibility for Trakehner breeders to watch young FEI prospects doing their first steps at advanced level so they can draw conclusions for their own breeding programs.
There was a field of 10 horse-rider-combinations, which managed to qualify for the finals, collecting FN ranking points at several dressage competitions in the last months. The TSF, which stands for Trakehner Sporthorse Promotion, is organizer of this new, great series. The qualified pairs were Blanc Pain (by Peron Junior) with Kristine Möller, Aragorn le Grande (by E.H. Solero) with Lutz Weyland, Brequet (by E.H. Tivano) with Katja Camp, Cote d'Azur TSF (by E.H. Cadeau) with Helen Langehanenberg, El Gardo (by E.H. Kasparow) with Katharina Kreft, Feenzauber Iwest (by E.H. Connery) with Julia Mestern, Occacio (by E.H. Cadeau) with Danny Bartelt, Pago Go (by Bel Espace) with Andreas Brandt, Pommery (by E.H. Hibiskus) with Nicole Raili and Priegnitz (by E.H. Hofrat) with Kilian Hüttner.
Leaving the field behind them, Cote d'Azur TSF and Helen Langehanenberg, earned 69,561 % for a nice ride. The beautiful and noble mare was showing good movements with elasticity and Helen Langehanenberg presented the light-footed mare with all the elegance that dressage should be about. After successfully competing at several big shows earlier this year, Cote d'Azur showed a lot of potential for an international career. Cote d'Azur is bred and owned by Margit Eisner, a highly committed Trakehner breeder and together with her husband, a faithful sponsor of Sebastian and Helen Langehanenberg.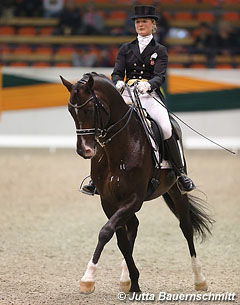 Second place went to Luxembourg-based Danish Kristine Möller and her stallion Blanc Pain with a result of 67,982%. The stallion is bred and owned by Jens Thorsen, Pallerhaff stud. The pair showed a very powerful trot tour but lacked the winning pair's lightness and ease. Third placed was the big black El Gardo, owned and ridden by Katharina Kreft. The combination showed a very correct test for a result of 67,018%.
There were several interesting combination, for example Priegnitz and Kilian Hüttner from Gestüt Wiesenhof in Krefeld, showing a lot of potential and elegance. Or the stallion Feenzauber Iwest, who is also successfully competing at CIC** level eventing with his rider Julia Mestern. A very rare combination is Lutz Weyland and his Aragorn le Grande. The big bay stallion is bred, owned and ridden by Lutz and it seemed that they have the potential to follow the footsteps of Lutz' former FEI horse Mon Acteur TSF, who is a full brother of Aragorn's dam Actrice (by E.H. Anduc) and also has been bred, owned and ridden by Lutz Weyland. Like Aragorn, Mon Acteur TSF was bred, owned and ridden by Lutz!
by Stephan Bischoff and Maren Engelhardt for Eurodressage
Photos © Jutta Bauernschmitt
Related Links
Strong Selection at 2012 Trakehner Stallion Licensing
Donauruf, Champion of the 2012 Trakehner Stallion Licensing