2012 Pavo Cup Finals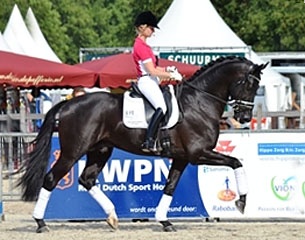 Dutch young horse specialist Emmelie Scholtens produced a double victory at the 2012 Pavo Cup Finals in Ermelo, The Netherlands, today, winning the 4-year old Finals with Desperado and the 5-year old Finals with Charmeur. Guest judge rider Eva Möller gave both horses a 10 for rideability and potential.
Desperado and Charmeur were both in the lead after the semi finals, which took place at the KWPN Paardendagen on Tuesday 14 August and this morning they continued to dominate the first part of the Finals. The three best scoring horses in both age divisions after the semi finals and round 1 of the finals moved onwards to the second round in which they were test ridden by German Möller.
In the 4-year old division Desperado (by Vivaldi x Havidoff) topped the leader board in all three rounds. Under guest judge rider Möller, the black stallion also excelled, especially in canter, and got a 10 from Moller. Spanish Severo Jurado Lopez steered Diego (by Negro x Don Gregory) to the reserve champion's title. This licensed stallion demonstrated great ability to collect and got a 9 from Eva for rideability and potential. The mare Diva (by Vivaldi x Gribaldi) finished third and got an 8 from the guest judge. The 2012 KWPN spring performance test winner Don Tango (by Contango) was unable to make it to the end round and finished 16th overall with 155.5 points.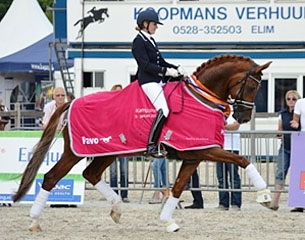 The drop dead gorgeous chestnut stallion Charmeur (by Florencio x Jazz) was unbeatable in the 5-year old division, earning 10s for his trot, canter, self carriage and suppleness in the first round of the finals. Eva Möller also awarded the stallion a 10 for rideability and potential. The best scoring Dutch horse at the 2012 World Young Horse Championships, Capri Sonne (by Rhodium x San Remo), finished second in the 2012 Pavo Cup Finals, earning 9 from Möller. The bay licensed stallion Cachet L (by Jazz x Ferro) ranked third with a 9 for rideability and potential.
Photos © Sandra Karman for KWPN
Results - 2012 Pavo Cup Finals
4-year olds
Rider - Horse - Round 1 - Round 1/Finals - Subtotal - Guest Judge Rider Score --- End Total
1. Emmelie Scholtens - Desperado - 88 - 89 - 177 points - 200 --- 377
2. Severo Jurado Lopez - Diego - 85.5 - 87 - 172.5 points - 180 ---- 352.5
3. Corina Verbocht - Diva - 85.5 - 85 - 170.5 points  - 160 --- 330.5
4. Gerdine Maree - Dream Boy - 82 - 88 - 170
5. Jose van Haaren - Darcy CL - 84.5 - 8.4 -- 168.5
6. Jessica Buying - Dolly - 75 - 83 - 168
7. Severo Jurado Lopez - Landsdale - 83 - 83 - 166
8. Sharon Loeffen - Dundee M - 85.5 - 80 - 165.5
9. Lotte Hansen - Dynton - 82 - 83 - 165
10. Judith Ribbels - Dolcevendy - 82 - 72 - 164
11. Emmelie Scholtens - Dorado - 81 - 83 - 164
12. John Tijssen - Dude - 80.5 - 81 - 161.5
13. Jose van Haaren - Dizzy Tika - 75.5 - 82 - 157.5
14. Kirsten Brouwer - Dancer - 77 - 80 - 157
15. Astrid Langeberg - Didando - 77.5 - 79  156.5
16. Emmelie Scholtens - Don Tango - 79.5 - 76 - 155.5
17. Jose van Haaren - Diementa - 76.5 - 78 - 154.5
18. Daniel Mosterdijk - Danci - 76 - 78 - 154
18. Jana Freund - Dark Pleasure - 77 - 77 - 154
20. Alex van Silfhout  - Denzel - 75.5 - 78 - 153.5
21. Mandy Dokter - Djack Johnson - 76.5 - 76 - 152.5
22. Jessica Nijpjes - Devil Diamond N - 78 - 74 - 152
22. Laura Zwart - Dylan - 77 - 75 - 152
5-year olds
Rider - Horse - Round 1 - Round 1/Finals - Subtotal - Guest Judge Rider Score --- End Total
1. Emmelie Scholtens - Charmeur - 93 - 95 - 188 - 200 --- 388
2. Dinja van Liere - Capri Sonne - 88 - 94 - 182 - 180 - 362
3. Mirelle van Kemenade - Cachet L - 86 - 89 - 175 - 180 --- 355
4. Thamar Zweistra - Charon - 80.5 - 91 - 171.5
5. Hans Peter Minderhoud - Vitalis - 84 - 85 - 169
6. Emmelie Scholtens - Connaisseur - 85.5 - 82 - 167.5
7. Fransje van der Meer - Casper - 85 - 81 - 166
8. Severo Jurado Lopez - Chippendale - 81 - 81 - 162
9. Jonna Schelstraete - Chicago - 78.5 - 81 - 159.5
9. Annieta Klip - Chinook - 80.5 - 79 - 159.5
11. Tom Franckx - Charisma - 76.5 - 82 - 158.5
12. Geert Jan Raateland - Crespo B - 82 - 76 - 158
13. Willem Jan Schotte - Citho - 78 - 79 - 157
13. Vai Bruntink - Chardonnay - 78 - 79 - 157
13. Marieke van der Putten - Che de Jeu - 77 - 80 - 157
16. Jenny Schreven - Chocolate Cookie - 78.5 - 77 - 155.5
17. Kim Huysmans - CC Strider - 80 - 74 - 154
18. Cora Verlouw - Capri P - 76.5 - 77 - 153.5
18. Lobke de Jong - Cirano - 77.5 - 76 - 153.5
20. Anne Lehmann - Clever - 78 - 75 - 153
21. Robin van Lierop - Sir Charlie Chaplin - 77.5 - 74 - 151.5
22. Jose van Haaren - Catapult - 77.5 - 73 - 150.5
23. Clementine Voest - Corleone VH - 76.5 - 73 - 149.5
Kristen Brouwer - Chantieni - DNS
Related Link
Desperado and Charmeur in the Lead of 2012 Pavo Cup Semi Finals
Previous Pavo Cup champions
Charmeur and Borencio Win 2011 Pavo Cup Finals
Borencio and Amazing Star Go All the Way and Take 2010 Pavo Cup Finals
TC Athene and Zhivago Win 2009 Pavo Cup Finals
Zuidenwind and Wynton Win 2008 Pavo Cup Finals
Westpoint and Vivaldi Win 2007 Pavo Cup Finals
Santano and Ucelli T Win 2006 Pavo Cup Finals
Uptown and Dreamcatcher Win 2005 Pavo Cup Finals
Florencio and Sandreo Win the 2004 Pavo Cup Finals
Special D and Robin Hood, 2003 Pavo Cup Winners
Rubels and Paster, 2001 Pavo Cup Champions
Natcho and Osmium Wins 2000 Pavo Cup Finals
Broere Stallions Dominate 1999 Pavo Cup Finals
Lucky Times and Mariena Win 1998 Pavo Cup Finals