Oldenburg Breeding News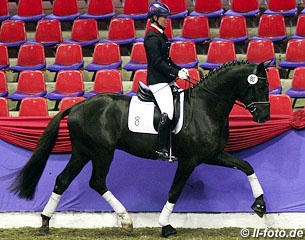 Furstenstein, a 3-year old Furst Romancier x Hohenstein x Donnerhall offspring, was proclaimed champion of the 2012 Oldenburg spring Stallion Licensing, which was held in Vechta, Germany, on 29 - 30 March using the new format with a one-day under saddle performance test.
For the first phase the colts had to do a 1-day performance test (on 29 March 2012) which includes free jumping, presentation of the gaits under saddle and a rideability test by a guest judge rider. The second phase (on 30 March 2012) was the traditional assessment on hard-surface, in the triangle arena and walk in-hand. The colts allowed at the spring licensing were 3-year old colts which have never appeared at a licensing before and 4-year olds which haven't been assessed yet but have completed a 30- or 70-day stallion performance testing.
Bred by Lüder Lepenies and owner by Anette Lepenies, Furstenstein was proclaimed champion. Eight stallions in total out of 26 originally registered for the licensing were approved. Under Kira Wulferding, the stallion had a very functional, engaged and ground covering trot with active hind leg usage, ascopey canter in which the hind leg should show more flexion and a decent walk.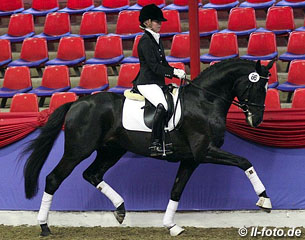 The most spectacular horse at this first under saddle licensing, which might become the definite format for licensing stallions in Oldenburg, was the black Scuderia, a 4-year old Sir Donnerhall x Escudo x Match AA offspring, bred by Nicola McGivern and Fiona James of Active Equestrian in Great Britain and owned by Ingo Pape. The black stallion has a mind-blowing trot, a superb uphill canter, but failed to produce a proper walk under saddle due to tension. In hand the walk was much better. Scuderia became the reserve champion or what the Oldenburg now calls the "silver medallist".
The bronze medallist and third placed stallion was Sao Passionato, a 3-year old Sir Donnerhall x Friedensfurst x Rocher d'Or, bred by Ludger Buhrmann and owned by Uwe Timme.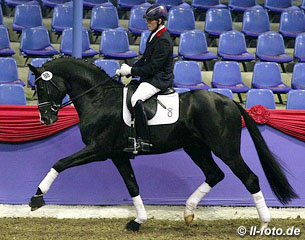 Dr. Wolfgang Schulze-Schleppinghoff, breeding director of the Oldenburg society, commented that, "our first saddle licensing wa a nice success. It shows us that many stallions, which were licensed in hand, do not prove to be what they are under saddle and it also goes the other way round. We are selecting riding horses and this method which we are trying to instate will be the method of choice. For the future, we are discussing asking a small jump from the 4-year old stallions to get an impression of their jumping abilities under saddle."
The other licensed dressage stallions are:
Florestan x Rubinstein x Weltmeyer - Owner & Breeder: Heinz-Michael Schroder
Diamond Hit x Lauries Crusador x Brentano II - Owner & Breeder: A. Schulze-Averdiek
Florencio x Donnerhall x Akzent II - Breeder: Josef Wernke - Owner: Susanne Hoffmann
Just Perfect x Donnerschwee x Akzent II - Breeder: Helga & Guna Schirrmacher - owner: Gunda Schirrmacher
San Amour x Tambour x Timber - Owner & Breeder: Hubertus Dieckert
The complete results' list here.
Photos © LL-foto.de
Related Links
Fourteen Colts Added to 2012 Oldenburg Spring Stallion Licensing Collection
Twelve Colts Accepted for 2012 Oldenburg Spring Stallion Licensing