2011 Italian Dressage Championships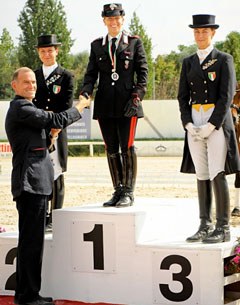 Valentina Truppa swept the boards at the 2011 Italian Dressage Championships held in Arezzo, Italy, on 23 - 25 September. The Milan based dressage rider won the technical and freestyle championships for professional dressage riders aboard her own Italian warmblood Eremo del Castegno (by Rohdiamant). Martina Spada and Riccardo Sanavio won the title in the junior and young riders division.
Truppa and her 10-year old chunky bay gelding Eremo left no doubt about it that they are dominating the Italian dressage scene. With solid seventy percentage scores in all three rounds, Truppa earned two titles in one weekend. She scored 73.053% in the Intermediaire II and 72.979% in the Grand Prix for the Technical leg of the Championship. With 78.425% in the freestyle championships, she was a league of her own. Truppa rode to a new choreography based on her Italian inspired music. 
"My freestyle test was very, very good," said an elated Truppa. "It was amazing and mistake free! I presented my new kur and I'll show it again at the CDI in Milano (this weekend)." Truppa was very pleased with her high score. "I had a wonderful score," she said. "More than 78% from an international jury, which is special for our country. It was a very good opportunity for me and my horse and I had a record score."
For the next few months, Truppa has planned on competing Chablis and Eremo at the CDI Lyon, CDI-W Stuttgart and CDI Frankfurt.
The silver medal in the technical test went to Truppa's student of ten years Federica Scolari on the bay Italian bred stallion Beldonwelt (by De Niro x Weltmeyer x Consul). She earned 64.763% and 64.809% to finish second. In the freestyle Scolari got bronze with a 65.400% earning Kur. 
Truppa's second student Micol Rustignoli also ended up on the podium twice with Valentina's former horse Corallo Nero (by Sherwood x Landadel). In the Intermediaire II she scored 64.684%, while in the Grand Prix they earned 63.915% which tallied to a total of 128.599 points for bronze. In the kur they added a notich and obtained 69.475% from the judges to get freestyle silver.
In the Young riders division Laura Conz' student Ricardo Sanavio was untouchable in all three rounds. Aboard the Hanoverian licensed stallion Lullaby (by Londonderry x Duntroon x Dobrock) Sanavio scored strong marks in the Prix St Georges (68.842%) and Individual test (68.158) to win gold in the technical championship. He got 70.900% for his kur which granted him his second gold medal of the weekend.  Maddalena Zambaiti and Wild Wadi got double silver, while Chiara Biliotti raked in double bronze.
In the junior riders division Martina Spada and the former PSI auction horse Welfenadel (by Welt Hit II x Pablo) were unbeatable outclassing all competition with their scores. In the technical part they got 66.847% and 67.06% from the judges for gold, in the Kur she got 71.050%. In the Technical champion Leonardo Farina finished in silver position, followed by Camilla Mauro. In the freestyle championship Flaminia Veneziani elbowed herself to the silver step on the podium, while Mauro was back for bronze.
Photo © Marco Villanti
Related Links
Scores 2011 Italian Dressage Championships
Ladies Rule at 2010 Italian Dressage Championships
Truppa, Sanavio, Biliotti, Marconi Win 2009 Italian Dressage Championship
Campanella Wins 2008 Italian Freestyle Dressage Championships
Pierluigi Sangiorgi Wins 2008 Italian Dressage Championships
James Connor and Highflyer, 2002 Italian Kur Champion