2002 Italian Dressage Championships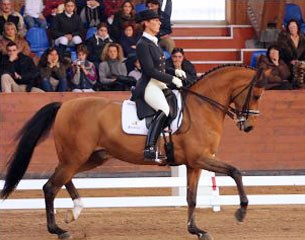 At the 2002 Italian Kur to Music Dressage Championships in Arezzo, November 17, 2002, James Connor and High Flyer became the 2002 Grand Prix Freestyle Champions of Italy.
Riding on musical tunes composed by Claudio Gabbiani, Connor and Highflyer scored a 69.59% and won the class. Connor claimed gold and won his second national title, his first one was won in 2000 at Pontedera, Italy.
The silver medal went to Ester Soldi aboard A'Kan. The duo scored 64.91% and put 2001 Italian champions Laura Conz and Etalon in the bronze position. Riding Etalon, Conz' newest Grand Prix horse, Laura scored 64.31% and received the bronze medal. Her former talented bay stallion Fibrin  became Italy's favourite dressage horse at the CDI San Patrignano at the beginning of the 2002 show season, but has been sold to Switzerland.
At Prix St Georges level, Valentina Truppa excelled aboard her junior riders horse Don Rico. Receiving a high 73.20% from the panel of judges, Truppa rose to the expectations with her Claudio Gabbiani composed freestyle. Claudia Montanari and Don Vittorio rode an N'sync silver medal winning test that was marked 69.61%. The bronze went to Eva Rosenthal and Vincent 50 for a 65.38% test.
In the pony classes the medals were divided as following. Gold for Frederica Soldatini and Nany (66.72%), silver for Erika Cerboni on Thymus (64.25%) and bronze for Caterina Motta on Apilex (63.75%). In the young riders class, gold went to Francesco Zaza on Wesenfuerst 5 (67,11%), silver to Alice Mariotti aboard Ramon (63,16%) and bronze to Roberto Brenna with Novalis (61,79%).
Related Link
Soldatini, Elicio and Zambiati Take Medals at Italian Pony Championships