Danish Warmblood Breeding News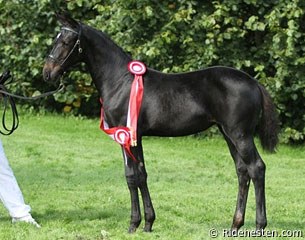 JJ Fuji and Ellely's Tornado have been named 2011 Danish Dressage Foal Champions at the 2011 Danish Warmblood Elite Mare Show which is held in Vilhelmsborg, Denmark, 9 - 11 September 2011.
JJ Fuji (by Fürstenball x Deemster) was the undisputed champion in the dressage filly division. Bred and owned by the Norwegian based company JJ Horses, Fuji qualified for the Championships at a foal show in Norway and travelled to Denmark for the Finals.
"This beautiful and very expressive filly displayed a great activity in the hind-legs and ability
to sit. The great grand dam is a former Grand Prix jumper," said the Danish Warmblood society.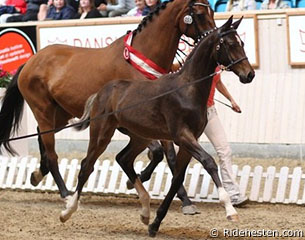 Ellely's Tornado (by Tailormade Temptation x Flemmingh) was proclaimed champion in the dressage colt division. He is bred and owned by Birgith Thomasen.  Ellely's Tornado scored no less than a 10 for his trot and the judges
evaluated the potential of his gaits as almost unlimited.
The champion jumping filly was Hummels Fallulah (by Godsend du Reverdy x A'Khan Z), the jumping colt champion was Canada Sem (by Ci Ci Senjor Ask x Cajus).
Photos © Ridehesten.com
Related Links
Future Jazz RV, Price Highlight 2011 Danish Elite Foal Auction
Tirana Proclaimed 2-Year Old Danish Dressage Mare Champion
Dancing Boy and Stigma, Danish Dressage Foals of the Year 2010