2010-2011 Imperial Riding Cup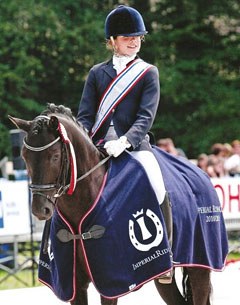 The 13-year old Febe van Zwambagt became the 2011 Imperial Riding Cup winner for Dutch FEI pony riders of which the Finals were held at Outdoor Gelderland in De Steeg, The Netherlands, on 10 - 12 June 2011. Aboard her 7-year old black New Forest Pony Prince Z (by Make My Day), van Zwambagt won the Kur to Music and led the overall rankings.
"My first Imperial Riding Cup show was in Emmeloord and I won it with a 75% score, while I would have been happy with a 60%. Now I won, this is too cool," said an ecstatic Van Zwambagt.
The first round of the Finals was won by Dana van Lierop of the German Riding Pony mare Day of Diva (by Don't Worry). She scored 73.750% but opted not to ride the freestyle finals the next day as the palomino mare had recently returned from the CDI Roosendaal and only had to show fitness in front of Dutch pony team selector Tineke Bartels. Van Zwambagt was second in the first round with 72.407% and won the freestyle with 75.708%.
Judge Wim Ernes praised Prince Z's uphill frame and correct, constant contact with the bit. "Prince Z had a good walk, a super trot and a very nice canter, which could have been more elastic in the extensions," said Ernes. "The rider has a very nice hand and she's always finding solutions while riding forwards."
The Varsseveld based 16-year old Sanne Gilbers placed second aboard her German Riding Pony mare Daylight. She was fourth in the first round with 69.953% and second in the Kur with 75.166%. "They executed very nice simple changes and rode a constant test," said Ernes.

Sanne Vos and her young German Riding Pony mare Champ of Class (by Champion de Luxe) ranked third overall. "Champ of Class is a very good pony and the rider is able to execute a nice silhouette, which was disrupted by major mistakes," Ernes commented.
Photo courtesy Van Zwambagt
Results
2011 Imperial Riding Cup Finals - Round 1
1. Dana van Lierop - Day of Diva - 73.750
2. Febe van Zwambagt - Prince Z - 72.407
3. Sanne Vos - Champ of Class - 71.157
4. Sanne Gilbers - Daylight - 69.953
5. Sanne Gilbers - Geronimo B - 68.888
6. Lotte Meulendijks - Boticelli - 68.055
7. Nanette Boeree - Beukenhof's Ricardo - 66.898
8. Luca de Rijck - Omira - 66.759
9. Jelle Peeters - Nandor -  66.111
10. Sanne Vos - Just You 'n Me - 65.648
11. Rachell Fokker - Orchard Boginov - 65.555
11. Samantha van der Lof - Elin's Nonciscador  - 65.555
13. Lotte Meulendijks - Armani - 65.231
13. Demy Kurstjens - Ciske va de Beekerheide -  65.231
15. Kirsten Dirks - Silver Shadow -  65.185
16. Rachell Fokker - Majos Cannon -  64.213
17. Laurie Vervoort - Leliebelle - 63.518
18. Josine Blommestijn - Holthausen Sindar -  63.379
19. Michelle de Jong - Hagelkruis Valentijn -  62.870
20. Jeanine Nekeman - Mister Danny de Vito -  61.898
21. Marjan Hooge - Mr Matcho - 60.231
2011 Imperial Riding Cup Finals - Round 2 - Kur to Music

1. Febe van Zwambagt - Prince Z -  75.708
2. Sanne Gilbers - Daylight -  75.166
3. Lotte Meulendijks - Boticelli -  74.916
4. Sanne Vos - Champ of Class - 71.833
5. Jelle Peeters - Nandor -  70.541
6. Luca de Rijck - Omira - 57.958
2011 Imperian Riding Cup Final Ranking
1. Febe van Zwambagt - Prince Z - 148.115
2. Sanne Gilbers - Daylight - 145.121
3. Sanne Vos - Champ of Class - 142.990
4. Lotte Meulendijks - Boticelli - 142.973
5. Jelle Peeters - Nandor - 136.653
6. Luca de Rijck - Omira - 124.717
Related Links
Five out of Six for Sanne Vos at Final 2011 Imperial Riding Cup Qualifier in Kootwijk
Sanne Vos Wins Her Fourth 2011 Imperial Riding Cup Qualifier in Assen
Sanne Vos Aces 2011 Imperial Riding Cup Qualifier in Nieuw en St Joosland
Sanne Vos and Champ of Class Win Third 2011 Imperial Riding Cup Qualifier in Uden
New Talent Rises to the Top at 2011 Emmeloord Imperial Riding Cup Qualifier
Vos Wins First Qualifier of 2010-2011 Imperial Riding Cup in Weert
Dana van Lierop Wins 2010 Imperial Riding Cup