2011 Pan American Games Qualifier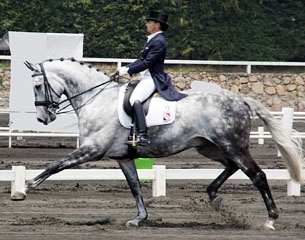 Mexican dressage star Bernadette Pujals took the lead in the first Pan American Games selection trial for aspiring Mexican team riders. At the national competition at Club Hipico Manantial in Ajusco near Mexico City on 14 - 15 May 2011, Pujals won the Prix St Georges and Intermediaire I to take a provisional lead in the run-up to the 2011 Pan Am Games hosted in Guadalajara, Mexico, in the autumn.
Aboard the 8-year old Danish warmblood bred Rolex (by Heslegards Rubin x Heslegards Louis) Pujals scored 69.605% in the Prix St Georges and 69.145% in the Intermediaire I to top the ranking in both tests. Judged by Canadian Cara Whitham and Mexican Mercedes Campdera the competition, nevertheless, was quite tough as three riders were on Pujals' heels to grab the trophy as well.
In the Prix St Geirges Omar Zayrik finished second on the 11-year old Dutch warmblood Lord (by Vincent), the horse he rode for Mexico at the 2010 Central American Games. He scored 68.026% and referred Mexico City based Antonio Rivera on the 12-year old PRE bred Naval (by Oficial XXIX) to a third place (67.105%). Jose Luis Padilla and the 14-year old Rhinelander bred Donnersberg (by Don Primero) were fourth with 66.645%.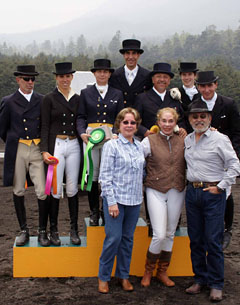 In the Intermediaire I Rivera and Naval shifted to a higher gear and finished second with 68.289, while Florida based Monica Burssens climbed up to a third place on Venezuelan Alejandro Gomez' Westfalian Dance of Joy with 67.193%. Zayrik finished fourth with 67.171%.
The Mexican Pan American selection process is based on the four best results achieved in the PSG or Inter I at three official selection trials. The second qualifier will be at Rancho Nodin in the Estado de Méxicon area near Mexico City on 18 - 19 June 2011. Judges Raphael Saleh (FRA) and Natalie Lamping (USA) will be officiating there. The final trial is at Estado Mayor Presidencial in Mexico City on 26 - 28 August 2011, where
Lorraine Mc Donald (CAN), Marian Cunningham "I"(PER) and Maria Collander (FIN) will be judging.
Photos courtesy Omar Zayrik
Results
Prix St Georges
1. Bernadette Pujals - Rolex - 69,605%
2. Omar Zayrik - Lord El Camino - 68,026%
3. Antonio Rivera - Ancemex Naval - 67,105%
4. Jose Luis Padilla - Donnersberg - 66,645%
5. Santiago Ortiz - Sjoery Banta - 65,987%
6. Monica Burssens - Dance of Joy - 65,395%
7. Ma. Del Mar Gutierrez - Royal -64,145%
8. Santiago Ortiz - Cendro Z - 59,737%
9. Enrique Palacio - Waldemar - 58,421%
10. Masha Ugryumova - Soberbio - 58,355%
11. Alberto Posada - Rusticano - 58,224%
12. Mariana Quintana - Byzantium Kevotiv - 57,434%
13. Mariana Quintana - Bellagio Kevotiv - 56,645%
14. Guillermo Espinoza - Nazareno - 53,355%
15. Lorena Morales - Tauro Mor - 38,092%
Intermediaire I
1. Bernadette Pujals - Rolex - 69,145%
2. Antonio Rivera - Ancemex Naval - 68,289%
3. Monica Burssens - Dance of Joy - 67,193%
4. Omar Zayrik - Lord El Camino - 67,171%
5. Jose Luis Padilla - Donnersberg - 65,263%
6. Santiago Ortiz - Sjoery Banta - 63,421%
7. Ma. Del Mar Gutierrez - Royal - 62,961%
8. Enrique Palacio - Waldemar - 60,987%
9. Mariana Quintana - Byzantium Kevotiv -59,474%
10. Masha Ugryumova - Soberbio - 58,750%
11. Lorena Morales - Tauro Mor - 57,961%
12. Mariana Quintana - Bellagio Kevotiv - 56,513%
13. Santiago Ortiz - Cendro Z - 55,592%
14 Guillermo Espinoza - Nazareno - 54,013%
Alberto Posada - Rusticano - DNS
Related Links
Canadian 2011 Pan American Games Trials Announced
Eric Lette Called Back to Duty to Help Brazilians Towards 2012 London Olympics
California Riders Show Why They Are "Best in the Country" at 2011 CDI Burbank