Belgian Dressage New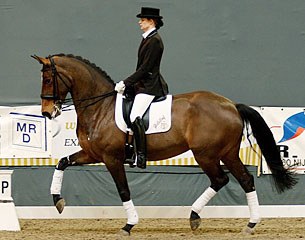 Ten riders stood out with their skills and potential and received a positive review from the selection committee at the first 2011 Belgian Dressage Talent Day held at the Winter Equestrian Nights in Lier, Belgium, on Sunday 13 February 2011.
Twenty-two combinations were registered to be reviewed by the selection committee. The combinations entered the ring in groups of three or four and got 15 minutes to ride in front of the panel. Announcer Dominique Rimanque informed which movements had to be shown by the riders.
At the end of the sessions, the riders immediately got the verdict of the jury and found out whether they would get a positive review to be considered for the official Belgian Dressage Talent Team. The riders who passed will need to give a good impression at national dressage competition as well as stand out at the next official training seminar.
At the end of the day, the riders were invited to ask the experts questions which resulted in a positive debate.
The qualified riders are:
Jitske Bosschaerts - Whitney
Francesca Hoefnagels - Sir Cloud
Nils Debo - Chopin van de Kegelhoeve
Loranne Livens - Vincent
Jeff T'Seyen - Pavarotti STV
Michel Muyters - Ufano
Nicolas Vandekeybus - Rivaldy
Anneleen Michielsen - Luis Seni
Erika Rijcken - Los Angeles van de Cumul
Annelies van Looveren - Agami van het Gestelhof
Photo © Laurence Verheijen
Related Links
Julie de Deken, Belgian Talent of the Year 2010
VLP Talent Team 2011 Announced
Belgian AA Talent Plan and AA Talent Team Created