Belgian Dressage New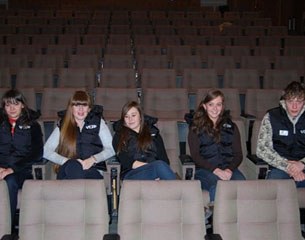 The Flemmish Equestrian Federation (VLP) announced the 2011 VLP Talent Team. Riders selected on these youth teams  will receive extra support and training thanks to the VLP and its associate sponsors.
On 6 December 2010 a special meeting took place at the KBC buildingin Brussels where the 2011 Talent Team was presented and the new rules explained. The A-team can include riders with an age of 16 to 25, while riders aged 14 to 21 can be selected for the B-team. Several "Talent Days" will be organized for the B-team riders which replace the previous and only Talent Day in April.
For the fifth year a Talent Team for show jumping, dressage and eventing has been selected.
Two dressage riders have made the A-team: Belgian Junior Riders Champion Mieke Mommen and Belgian Young Riders Champion Brecht d'Hoore. The dressage B-team includes the other high scoring Belgian junior and young riders.
Dressage A-team
Mieke Mommen - Rocky (by Rockwell)
Brecht d'Hoore - Sital (by Metall)
Dressage B-team
Magali Bastaens - Topaz (by Kimberly)
Saidja Brison - Moliere (by De Niro)
Eline De Coninck - Don Warohn (by Dormello)
Noémie Goris - Wunderbar (by Waikiki)
Laurence Roos - Ambaro Saturnus (by Montecristo)
Julie Van Olst - No Problem (by No Limit)
Jorinde Verwimp - Maxwill (by Dageraad)
Tahnee Waelkens - Sandiegobese (by Feliciano)
Photo courtesy VLP.be
Related Link
Belgian AA Talent Plan and AA Talent Team Created