KWPN Breeding News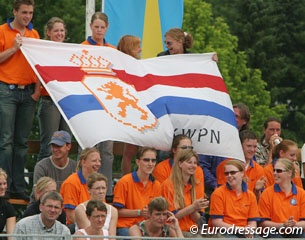 KWPN licensed stallion took the Dutch warmblood breed society all the way to the top of the 2010 WBFSH Ranking. The World Breeding Federation for Sport Horses (WBFSH) published the final 2010 rankings for breed societies and dressage horses.
For the second consecutive year the KWPN society was ranked number one. The best dressage horse in the world in 2001 was Totilas.
The 10-year old Dutch warmblood Totilas, by the Trakehner elite sire Gribaldi out of Lominka (by Glendale x Akteur), led the dressage ranking with 2737 points. His team colleague, 13-year old Dutch warmblood Parzival (by Jazz x Ulft) followed in second place with 2408 points. The third highest ranked KWPN horse is on place four: Akiko Yamazaki's Ravel (by Contango x Democraat). The bay gelding, which won the 2009 World Cup Finals and Aachen Grand Prix, has 2146 points.
The highest six ranked horses per breed contribute towards the final score of that breed society in the Dressage breeding ranking. Five of those six KWPN horses were remarkably sired by foreign stallions: three of them by a Trakehner sire (Gribaldi and Partout), one by an Oldenburg sire (Contango), and one by a Danish warmblood stallion (Solos Carex). Besides Totilas, Parzival and Ravel, the Spanish owned KWPN stallion Painted Black (by Gribaldi x Ferro), Ton Kies' chestnut mare Nadine (by Partout x Roemer) and Jan Greve's chestnut stallion Scandic (by Solos Carex x Amiral) helped in producing the 12747 point score of the KWPN society.
The Hanoverian society, which has been dominating the dressage rankings up till 2008, finished second again in 2010. Isabell Werth's Warum Nicht (by Weltmeyer), Imke Schellekens-Bartels' Sunrise (by Singular Joter), Anky van Grunsven's Salinero (by Salieri), Isabell Werth's Satchmo (by Sao Paulo), Anabel Balkenhol's Dablino (by De Niro) and Laura Bechtolsheimer's Andretti H (by Aarking xx) boosted the score of the Hanoverian verband to  11547 points.
The Danish Warmblood society finished third for the third year in a row. Thanks to the achievements of Laura Bechtolsheimer's Mistral Hojris (by Michellino x Ibsen), who finished third in the dressage horse ranking with 2285 points, "Dansk Varmblod" landed in bronze position in the 2010 WBFSH Breed Ranking. Further contributors to the 9948 point score of DWB were Nathalie Zu Saeyn-Wittgenstein's Digby (by Donnerhall), Tina Konyot's Calecto V (by Come Back II), Sune Hansen's Gredstedgardens Casmir (by Continue), Anne van Olst's Clearwater (by Carpaccio) and Anne Troensegaard's Seduc (by Induc). These Danish warmbloods also have a pedigree with genes from sires of neighbouring breed societies.
The Oldenburg society ranked fourth with 9909 points.
Full scores of the Dressage Breed Ranking, click here.
Full scores of the Dressage Horse Ranking, click here.
Related Links
The Inaccuracy of the WBFSH Ranking
Jazz Tops WBFSH Dressage Sire Ranking for 2009
Hanoverians Win 2006 WBFSH World Breeding Dressage Ranking